Yesterday, I returned to CNBC "Trading Nation" to discuss energy, the Fed and the state of the stock market.
During the debate, I explained why we're bearish on the energy sector. Oil and energy are set by the price of the commodity (and whatever pile of rocks you own). We generally tend to stay away from it because we don't see much value there.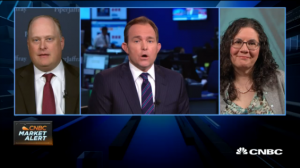 Next, we analyzed the possibility of a Fed rate hike in June. We believe a near-term rate hike is now off the table because of exogenous factors outside the U.S. including Brexit and the uncertainty there.
Finally, we discussed what will make investors more enthusiastic about the market that's been stuck in neutral for about a year. To get individual buyers back in big name companies need to shake it up and do something big. People are driven by fear and greed, that's the on/off lever for people buying and selling stocks. Investors come back into the market because they fear they are going to miss out, but generally it takes a big move to get people back into the market. I don't think that's a great approach or a way to manage money, but that's what it will take to get an individual investor back into an unloved market.