I made my first appearance on CNBC's "Trading Nation" this week to take a look at continued volatility in the energy market and to explain how Fort Pitt invests in equities during tough and unpredictable times.
We do not consider ourselves stock pickers, we are investors in companies and are always looking for value. In the type of market we are currently experiencing, we look at companies who have an established track record of success navigating times of past turmoil. Some companies and their management that have proven themselves historically and might be good to consider in a tough market like we have today are:
VFC (VF Corp.) – An old company with a deep management bench boasting a lot of experience.
URBN (Urban Outfitters) – CEO Richard Hayne has been in the business since the 1970s and has experience in various fashion cycles.
MSFT (Microsoft) – If you read our blog regularly, you know we love MSFT. Again, they have a deep bench of executives who have successfully navigated tough times. The future is bright for them with businesses moving to the cloud.
In the end, we are looking back to help us predict the future. Check out my segment by clicking the picture below.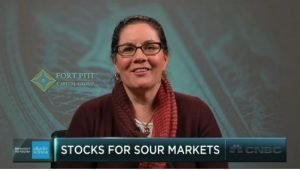 I also took part in a piece on energy stocks, which have been wreaking havoc on the markets. The picture below will take you to the segment, where I highlight what I think the real problem is in the energy space – there are too many companies with too much debt.