Last Friday, I appeared on several CNBC segments, discussing some of the latest market news.
In the first interview, I commented on current gains in the gold market over the past week. We think the recent rally in gold can be attributed to the weak dollar. Back in February, we did get some calls from nervous investors asking what we thought about gold going to cash. We saw this as a "hangover" from 2008, because when the markets decline rapidly, people can be driven to the yellow metal. This doesn't seem to be happening right now and our assumption is the falling dollar is what's boosting gold.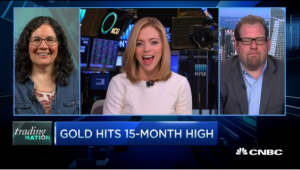 Later, I discussed the technology sector. Yes, stocks are down 20 percent from their highs, but we like some big tech companies for a handful of reasons. Essentially, we like companies that provide productivity to other companies. I still like names like Computer Associates, Microsoft and Intel, and I always think they are good buys because productivity never goes out of style. Right now, companies are being very careful about capital expenditure spending, and tech is going through a soft patch with respect to that. But, I wouldn't just dump my holdings because of that.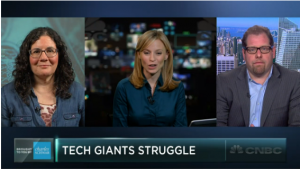 For the final segment, I weighed in on picking companies with growth potential in a slow-growth market. For one, investors have to do a lot of homework, because growth just isn't popping out at you from anywhere. At the end of the day, if you own equity, you need growth. What investors should do is look at earnings calls, earnings announcements and look for companies that are gaining market share. There doesn't seem to be worldwide growth to be had. Try to find companies that have compelling products or are acquirers of other companies, so it's a market-share game.