On July 13, I returned to CNBC's "Trading Nation" to discuss concern over the shifted relationship in dividend yields and bond yields, as well as the fluctuating gold market.
The shift in dividend and bond yields is the first since the two flipped in 1959 when dividend yields fell below bond yields. Previously, people valued stocks based on the dividends they received by buying more equity, and therefore risk, expecting a higher return. In this segment, I explain why there has been an increased focus on dividend and bond yields.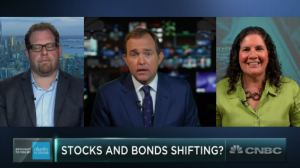 During the segment, we also discussed the recent rally in gold. I tend to agree with the school of thought that says "you have to pay to own gold, rarely does it pay you." We prefer equities, however, commodities and gold mines are something to pay attention to. We often see some favor in the gold market when something happens in current events or during a market downturn, likely from nervous investors.