Welcome back to our mid-month reading list series, where we highlight some of the latest economic news and views that caught the attention of our team.
Earlier this month, The Economist's annual Buttonwood Gathering took place. This event assembles economic thought leaders to discuss global financial trends. During the conference, Economist Editor Tom Easton declared that the US resembles China's "state-run" economy more and more. Aaron Task of Yahoo! Finance featured Easton in a follow-up video segment (included here) on November 1. Easton explained that very large segments of the economy, including health care and finance, are coming under greater Federal control.
Another item of interest was this consumer spending infographic from Intuit Inc. Using data provided by customers of its on-line financial planning service, Intuit tracked the spending habits of U.S. consumers over the last few years. It shows a dramatic rise in expenses such as tuition, child care and health insurance from the first quarter of 2011 through the first quarter of 2013.
Click on the graphic below to expand.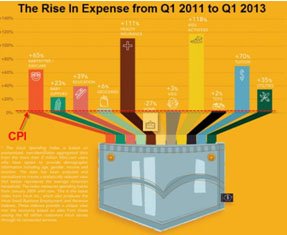 Infographic credit: mint.com/Intuit
Finally, in another article published on Yahoo! Finance from October 24, reporter Les Christie (of CNNMoney) reviews recent findings from RealtyTrac estimating that nearly half of all homes foreclosed in the nation are still occupied by their current owners. With the foreclosure process in many states lasting several years, it makes us skeptical of current home prices. How much lower might home prices be if these homes were put up for sale?