Given that munis generally follow the pattern of Treasuries, the outperformance provided a nice hedge against other broad based indices. Longer dated and lower credit munis outperformed shorter dated maturities as the extra yield became attractive.
Contrary to conventional wisdom, a high proportion of the performance came after the Federal Reserve (FED) raised interest rates in December. Although short term rates rose slightly, longer term rates fell, (higher prices) and the curve started to flatten. The 25 basis point rise was viewed as ceremonial and not based upon traditional economic indicators. Many now believe the FED will be slower to raise rates going forward.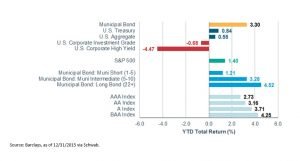 High demand and less supply
With the top tax rate for investment income being at an almost 30 year high, munis are one of the few tax-advantage investments still available. More than $42 billion has flowed into the municipal bond industry in the last 24 months, while new issuance only rose by 5 percent. The reasons for the lower supply include:
-Better financial management of municipalities
-Previous funding at lower rates
-Municipalities believe rates will remain low so no need to issue now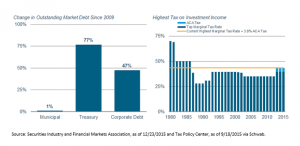 Avoid the landmines and know what you own
Although munis have performed well in general the last number of years, there still has been and will continue to be landmines. Recent headlines in Detroit, Chicago and Puerto Rico should remind investors that not all munis are treated equal. State and local governments with large pension obligations and a large reliance on one form of financing should be avoided. Although GO's tend to be a "safer" investment than Revenue bonds, different classes of GO's have proved to have a higher payout than others in cases of default. Dedicated unlimited tax pledge bonds will generally have a much higher payout in bankruptcy than ones with a limited tax pledge.