Last month, over 5,000 industry professionals traveled to Washington DC to attend the annual Schwab IMPACT conference. This was my 6th year to join the four-day summit, which always comes with a plethora of educational seminars, keynote speeches from industry big-wigs (this year included Janet Yellen and Andrew Card, former White House Staff), and the opportunity to network and hear about trends coming down the pike.
During the conference, there were a handful of themes frequently discussed, and major drivers that seem to be leading the way as we head into 2019.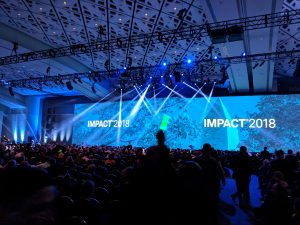 Philosophy shift (for the better). A theme that clearly resonated throughout the conference was the idea that "it's always client-first," and that is what will continue to move advisors forward. Many of the panels focused on this mentality, and the shift to providing more than just basic financial planning. Whether it's relationship-based, services offered, or technology that is a value-add, it seems a shift has begun where advisors expect to fully engrain themselves in their client's lives as a way to move the needle on their financial success.
Technology boom. Six years ago at Schwab IMPACT, there was minimal talk of financial technology. Today, there is an entire portion of the exhibit hall floor dedicated to these companies. In Tech Alley, firms showcase their products, host demos, and chat with advisors about service offerings. Technology as a supporting service to bolster work with clients is here to stay, and is a major theme that cannot be ignored.
Dedication to proper leadership. With advisors aging and succession plans needing to be put in place, there is a large opportunity for the industry to attract, retain, and properly train younger talent. There were many great panels on leadership, and passing the baton, so to speak, to millennial professionals. What is critical to understand is that this does not happen overnight. Instead, it takes years of training and cultivating those advisor-to-advisor relationships to develop younger advisors into our leaders of tomorrow.
New Schwab developments. A big announcement to come out of the conference was a new offering from Schwab. The new account onboarding technology, which will take the onboarding process from days to hours, will be an efficient game-changer for the industry. This will likely take off in the second half of 2019, but it was promising to hear about new developments and how they can help advisors with practice management.
As always, I came away from the conference with interesting notes, ideas to pass along to my colleagues, and trends to keep an eye on as the RIA industry continues to evolve. Looking forward to Schwab IMPACT 2019!