Charlie's Finance Articles August 2020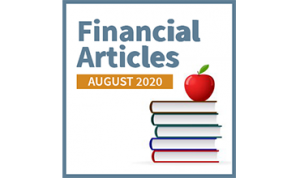 As summer starts to wind down, we're sharing Fort Pitt Capital Group's latest finance articles for the month:
Our first article, "Work-from-home unleashes nightmares for office landlords & surrounding businesses. Global Banks at the forefront" comes from Wolf Street. Global banks are among the first to make changes for their workforce and shift to a long-term work-from-home model. While this transition is for the safety of those who can work from home, commercial property owners may face occupancy difficulties as a result.
"Why Trump is likely to win again" is our next article from The Journal Blog. Swing voters will be key for the winner of the 2020 election. The "New Democratic" party doesn't appeal to the working class, which could be the difference maker in November.
Wolf Street supplies our third article, "No payment, no problem: Bizarre new world of consumer debt," which highlights the unusual occurrence of loan deferral or forbearance. Due to the unprecedented times we're facing, lenders are allowing borrowers to simply ask for a deferral or forbearance and it won't count as delinquent if consumers can't make payments on time.
"Manhattan apartment rents plunge 10% in pandemic-field exodus" is our next article from Bloomberg.com, detailing the weakness in Manhattan's rental market as city-dwellers flee to the suburbs and other boroughs. Data shows that rents declined while vacancies increased significantly over the last few months.
Finally, Wolf Street's "Foot traffic to 'place of commerce,' office occupancy hit by Covid reassurance, persistent work-from-home: Real-time data" completes this month's list. Real-time data trackers showcase average daily visits to "points of interest" to understand foot traffic patterns in large metros. This reveals that we are below levels of "normal" compared to January's data.