Savings Calculator — calculate future value
This calculator easily answers the question "If I save "X" amount for "Y" months what will the value be at the end?"
The user enters the "Periodic Savings Amount" (amount saved or invested every month); the "Number of Months" and the "Annual Interest Rate" or the annual rate of return one expects to earn on their investments.
The calculator quickly creates a savings schedule and a set of charts that will help the user see the relationship between the amount invested and the return on the investment. The schedule can be copied and pasted to Excel, if desired.
The investment term is always expressed in months.
60 months = 5 years
120 months = 10 years
180 months = 15 years
240 months = 20 years
360 months = 30 years
If you need a more advanced "Savings Calculator" - one that lets the user solve for the starting amount, the amount to invest, the interest rate, the term required to reach a goal or the future value; or if you would like to easily print the schedule; or if you need to pick a different investment frequency, then you may want to try the calculator located here: https://AccurateCalculators.com/savings-calculator
Currency and Date Conventions
All calculators will remember your choice. You may also change it at any time.
Clicking "Save changes" will cause the calculator to reload. Your edits will be lost.
Savings Calculator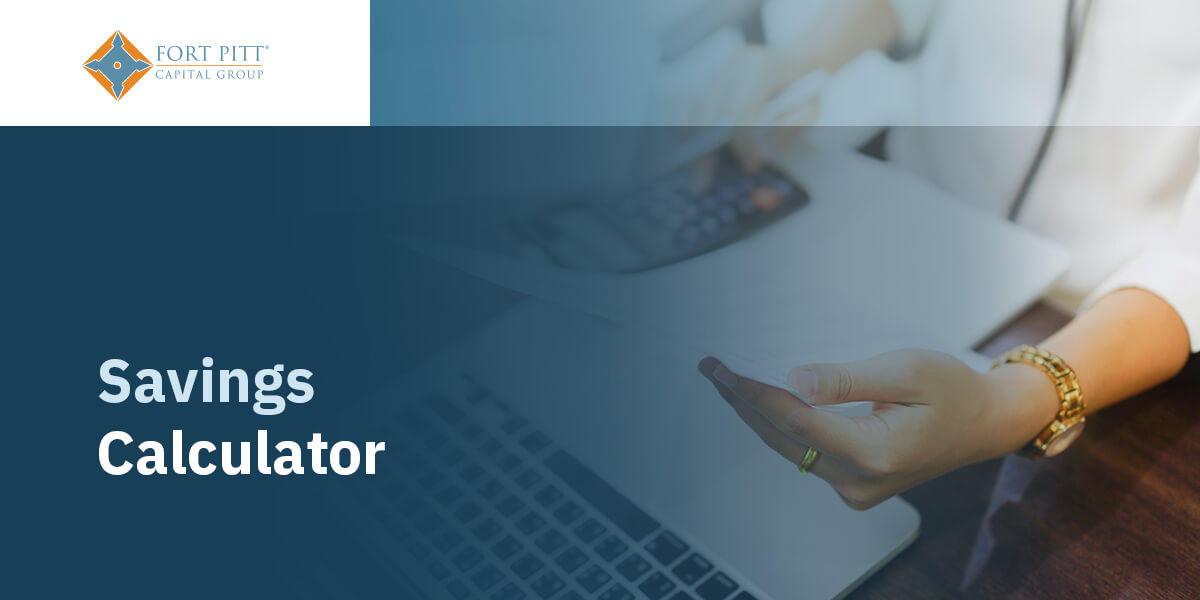 Are you curious about how much money you can save in a certain amount of time? A savings calculator can help you work toward your financial goals. Rather than calculating the formula yourself, savings calculators do the work for you, meaning you get accurate information without the hassle. Below, you'll find our comprehensive savings calculator, tips on using it, information about using a savings account, and answers to savings FAQs.
Read on to get started with calculating your savings goals.
How to Use Our Savings Calculator
Our savings calculator helps you determine how much money you'll have saved after a certain amount of time. It's a great tool if you have a particular financial goal, such as purchasing a house or car, or if you want to practice saving more. The following are steps you can follow to use the calculator:
Plug how much you want to save or put aside monthly into the "Periodic Savings Amount" bar. If your goal is to save $1,000 each month, enter $1,000 into the calculator.
Enter how many months you want to build your savings into the "Number of Periods to Save" bar. If you plan on saving for years, convert that number into months — three years would be 36 months.
Insert your saving account's annual interest rate into "Annual Interest Rate."
Click "Calc" to see your results.
When you're done, you can insert the information into a spreadsheet or print it for future use. The results will show you four pieces of information:
How much money you'll have saved by your end date
How much interest you've earned on that money in dollars
How much money you put into your savings account
Your final deposit date
If you'd like a complete savings schedule that breaks down your deposits, interest, net change, and balance by month, select "Savings Schedule." "Charts" will also show you data in a bar chart format.
How Much Money Should You Save?
Deciding how much money to save will depend on numerous personal factors. Most people save money for a few reasons — you may want to create an emergency fund, build up your retirement savings or set aside money for a specific expense. However, before you begin to put away money, you should consider why you're saving and what goals you have for the money you save.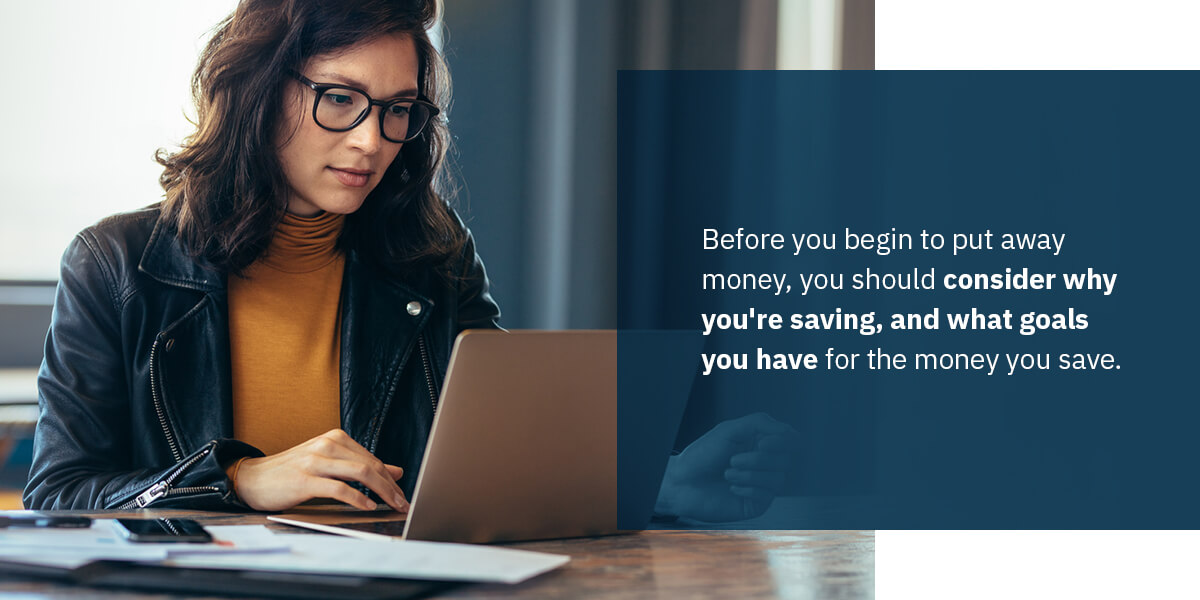 Let's say you're saving money to buy a new boat. First, you'll want to compile a list of boats you're interested in and a budget for yourself. Then you can narrow down your list to only those that align with what you want and can afford. After choosing a boat you wish to purchase, you'll know how much you need to put away each month to be able to afford it. You could base this number on the sticker price or use a lower amount if you plan to take out a loan.
In general, saving money for any purpose follows similar rules. When you know how much money you need to achieve your desired outcome, you can factor in your income, your expenses, your interest rate, and how much time you have to save to ensure you save enough cash. Try using our savings calculator to see how much you can save!
What Is Compound Interest?
In short, compound interest is the interest you earn on top of the interest you've already obtained. It's possible to earn compound interest by reinvesting the amount of money you collect from simple interest, or your investment's standard interest rate, into your account. Eventually, your principal investment — the money you initially invested — will grow, meaning you're earning additional money from the interest.
As an example, you may put $500 into a savings account monthly. This savings account has a 0.01% annual compound interest rate. If you check your savings in six months, you'll have amassed $3,000.06 — the 6 cents coming from the interest. By leaving that 6 cents in your account and continuing to put away $500 monthly, you'll end up with $6,000.42 in another six months.
Of course, the higher your account's interest rate, the more compound interest you can earn.
Savings Calculator FAQ
Sometimes, saving money can be a bit tricky! Check out a few answers to savings account FAQs to help you on your savings journey:
1. How Do You Calculate Interest on a Savings Account?
All savings accounts come with an annual interest rate. This rate can change depending on the supply and demand of credit at any given time. The formula you can use to calculate interest on a savings account is interest = principal amount x interest rate x number of time periods. That's how our savings calculator determines how much money you'll have over a set period of time.
2. How Much Will a Savings Account Grow?
A savings account will grow depending on how much money you put in, your account's interest rate, and how long you leave the money in your account. Essentially, investing a large amount of money into your account and leaving it there for several years will bring the most significant growth. Unfortunately, short-term savings goals, like purchasing a new car within the next year, won't benefit much from simple or compound interest.
3. How Can You Save a Set Amount of Money?
Understanding how your savings account works can ensure you save a specific amount of money by the time you need it. You can predict how much money you'll have on a set date according to certain variables through our savings calculator. Try playing around with the calculator to find a plan that works for you.
How can you save $10,000? Here's a quick example. If you need to save $10,000 in 12 months, putting about $835 monthly into a savings account with 0.03% interest will ensure you achieve that goal. Of course, adjusting your time period will give you longer to save, and increasing your monthly investments will help you reach your goal faster.
Talk With One of Our Advisors Today
While savings calculators and other online tools help simplify money management, they can't compete with advice and guidance from professional financial professional like our team.
Whether you need assistance with wealth management, investment strategies, or employee retirement plans, we've got you covered. At Fort Pitt Capital Group, we're proud to serve individual and business clientele alike, helping all kinds of people and companies meet their financial goals. Let our reliable team work with you to create a customized financial plan.
Feel free to browse our services and reach out to us to begin your financial journey today.