Charlie's Finance Articles February 2020
Here are Fort Pitt Capital Group's finance articles for February 2020: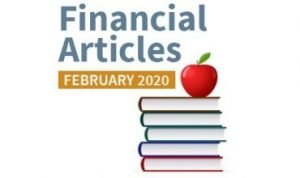 Our first article comes from The Wall Street Journal. "Why Invest? A 22-year-old's tough questions about capitalism," looks at why having a gloomy view of the future may not be warranted. In the coming decades, billions more people may be wealthier, healthier, and happier than ever before in history.
"Corporate America has a 1%, too, more influential than ever," comes from the Associated Press. Investors are increasingly bound to the fortunes of just five companies. Five big tech companies now account for 18% of the S&P 500 index by market value.
Zerohedge supplies our third finance article for February 2020, "Supply chain chaos unfolds at major Chinese ports as frozen meat containers pile up." Many transportation networks in China are closed because of the coronavirus and this is leading to a big pile up at Chinese ports. Containers of frozen chicken, pork, and beef are left sitting with nowhere to go.
"Economic woes: 1-in-4 renters are now spending over half their income on housing," also comes from Zerohedge. Nearly 11 million renters are spending more than 50% of their income on housing. And the number of cost-burdened renters increased by 6 million between 2001 and 2018.