Charlie's Finance Articles June 2020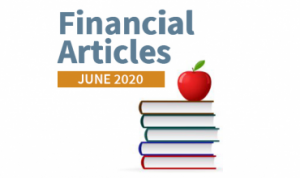 Here are Fort Pitt Capital Group's finance articles for June 2020:
"Sizing the commercial real estate bust," is our first article and it comes from The Institutional Risk Analyst. The impending commercial real estate bust in the U.S. may be bigger than the residential mortgage bust of the 2000s and the commercial real estate collapse of the 1990s.
Our next article, "Rabo: 'Insolvent US companies should take the Fed's new bailout loans and just buy the S&P,'" comes from ZeroHedge. The stock of companies with no income but cool names is up. In fact, despite a deep global recession and civil unrest, the S&P keeps going up.
The third article comes from Truth in Accounting, "Is Illinois an 'eligible issuer' for new Fed lending?" Illinois became the first state to use a new "municipal liquidity facility" initiative offered by the Federal Reserve.
Wolf Street supplies our next article, "The 53 companies bailed out by the Bank of England: Johnson Controls, Carnival, PACCAR, Honda, Toyota, BASF, Bayer…" The Bank of England launched a Coronavirus Corporate Financing Facility in March and has since lent more than £16 billion to 53 companies.
"How we might respond to a pandemic were society not so dominated by the state," is our last article and it comes from Mises Institute. Under the current state-dominated system, hospitals are at risk of going bankrupt in the middle of a pandemic.