Charlie's Finance Articles March 2020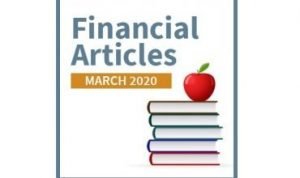 We are in the midst of a very unique and unprecedented time as countries all over the world deal with COVID-19. For that reason, the topic is consuming this month's list of finance articles, but this pandemic is impacting so many different facets of life that this list is still wide ranging and educational. With that said, here are Fort Pitt Capital Group's finance articles for March 2020:
Our first article, "Why long term investors should never sell stocks in a panic," comes from CNBC. Data from as far back as 1930 suggests that, "keep calm and carry on" really might be the best advice for investors during market volatility.
"Coronavirus testing is starting to get better — but it has a long way to go," is our next article and comes from STAT. COVID-19 has served as a wake up call for the U.S. on diagnostic testing. The technology behind the tests for detecting the virus was invented in the U.S. but it has become too difficult to get tests approved and paid for by insurers.
Morningstar supplies our third article, "The importance of staying invested in volatile times." Market volatility is actually pretty predictable. Every time it happens people get scared, but it's important to not overreact and sell stocks or shares when they're down.
Next up, "Here's hoping the MMT crowd is correct," comes from Bloomberg's opinion page. The controversial Modern Monetary Theory is about to be put to the test as government bond rates tumble.
"Israeli Nobel Laureate: Coronavirus spread is slowing," comes from The Jerusalem Post. A biophysicist who won the 2013 Nobel prize for chemistry is crunching numbers on coronavirus and believes the end of the pandemic is in sight.
The Atlantic is the source for our next article, "The Pattern that epidemics always follow." There are four stages of epidemic grief: denial, panic, fear, and hopefully a rational response. This pattern has occurred since  smallpox in the Roman Empire in A.D. 189 through the 21st century.
And we're ending just how we began, with an article from CNBC, "Mortgage refinance applications spike 79% as homeowners rush to take advantage of lower rates." A major drop in mortgage rates caused mortgage refinance applications to rise by 79% just in one week. It was the highest level of refinancing since April 2009.