Webinar: Elder Care During COVID And Beyond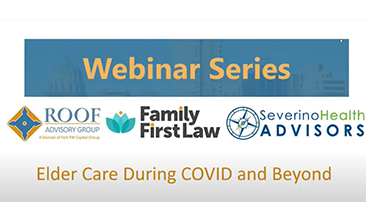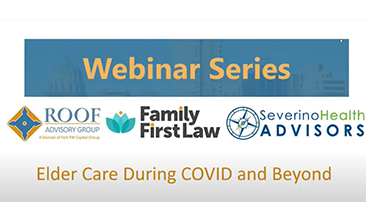 At Fort Pitt, we help our clients navigate a variety of life events and realize the importance of elder care planning. In a recent webinar, we answered a variety of questions about elder care and the impact COVID-19 has had on elder care facilities. Bryson Roof moderated the virtual panel with Susan M. Severino, RN, CSA and Aviv S. Bilwas, Esq. of Family First Law, LLC. Both of these experts have a deep background and understanding of the health care system, elder care, and the cost associated with helping an aging loved one.
Here are some of the questions we answered as it relates to elder care, the CARES act, and assisted living facilities during the pandemic:
COVID and nursing home placement – Is it possible to get into a nursing home during COVID?
COVID and nursing home visitation – what to do about your loved one's social isolation?
What is the cost of Skilled Care vs Assisted Living/Personal Care plus, which does my loved one need?
When is it time to contact an elder law attorney?
How might the CARES Act affect my elder care decisions?