Webinar: Eldercare – Sustaining Your Legacy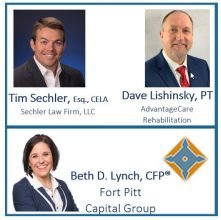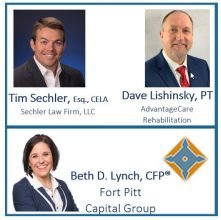 The topic of eldercare is difficult for most families to start discussing but it's something we frequently cover in our work with clients. We hosted a webinar on the topic with Dave Lishinsky, PT from AdvantageCare Rehabilitation and Tim Sechler, Esq., CELA from Sechler Law Firm, to help you get the conversation started. Eldercare and sustaining a legacy is one of those "life" questions that requires us to work hand-in-hand with other service professionals such as lawyers and CPAs. We know complex life issues can be hard to navigate so our goal for this webinar is not only to educate but also to offer a way to hear from a financial advisor, healthcare professional, and lawyer, all working together.
We addressed questions such as:
Can you self-fund?

Why is planning a game-changer?

How long are people in assisted living and what is the cost?

What are the different eldercare options available and how do I know what will make sense for my situation?

What do I need to prepare?

Is my portfolio positioned to get my family through eldercare needs?