The "real" fear – running out of money
Jay Sommariva
in
Vault
23 August, 2013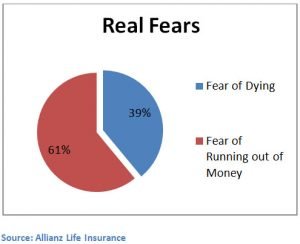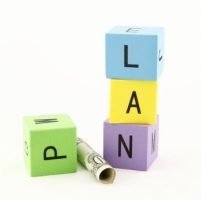 In my recent write-up, "Is the Bond Market Safe in the Face of Rising Interest Rates?," I focused on the risks associated with individual bond holdings. These include credit, liquidity and rising interest rates, all elements where portfolio managers place emphasis. However, as I talk with clients about investing, I find the primary risk that everyday investors are concerned with is outliving their money. With lifespans continuing to increase, health care costs rising and interest rates approaching zero, individuals are realizing that savings balances that looked more than adequate early on in retirement may not be enough.
Planning for "longevity" risks is a tough subject. No one wants to think about dying and we tend to procrastinate and focus our attention on the short term. When you get down to it, pinpointing exactly how much money you'll need and for how long can be difficult. No matter how long you may have put off this sort of planning, you still have time to right the ship.
Know You're Not Alone
According to a recent Allianz Life Insurance survey published by the AARP, 61 percent of respondents aged 44-75 fear running out of money more than death itself. 36 percent of these same respondents don't know if they have sufficient income to last them through retirement.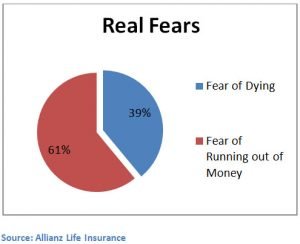 Develop a Financial Plan
Most goals successfully achieved in life start with a plan. Good things rarely happen by chance, and reaching your financial objectives is no different. A client's first interaction with Fort Pitt Capital Group involves the basic step of creating an investment plan. We help clients develop this financial roadmap so they can learn where they stand in relation to where they want to go.
Next, if cash flows to meet monthly obligations are a concern, but a client still wants the safety of principal, a fixed income portfolio can be implemented to provide secure cash flows precisely when they are needed. If, on the other hand, a client plans to work during retirement or have enough in savings to cover monthly expenses, stocks can be added to build a larger nest egg for retirement.
Review and Update the Plan
As circumstances change with work, life events and new priorities, it's important to adapt plans. Oftentimes, what seemed stamped in concrete 5 or 10 years ago is no longer the best alternative, and needs to be adjusted accordingly. Most of our clients prefer to meet with their advisor at least once a year to review results and make changes for the future.
How We Help
At Fort Pitt Capital Group, we understand client fears and we've seen the myriad of ways that people can sabotage even the best financial plans. We're on the lookout for telltale signs of either indifference or meddling — two of the biggest financial sins. We help clients avoid the emotional decisions in times of stress that can push them permanently off track. In short, we're here to make certain our clients stick to their plan.
We mold individual portfolios to the exact risk and tax parameters that fit specific needs. If a client is comfortable owning individual stocks and bonds, we can build highly tax efficient portfolios to maximize total return. If that client desires overseas exposure, or is more comfortable with the diversity offered with a portfolio of mutual funds, we offer asset allocation strategies through the use of funds.
No matter what avenue is selected to reach goals, it's never too soon to begin the planning process. Fear of the unknown is all too common, but can be alleviated with a little work, determination and a good partner. We're here to help!