26th Annual Fort Pitt Capital Group Client Event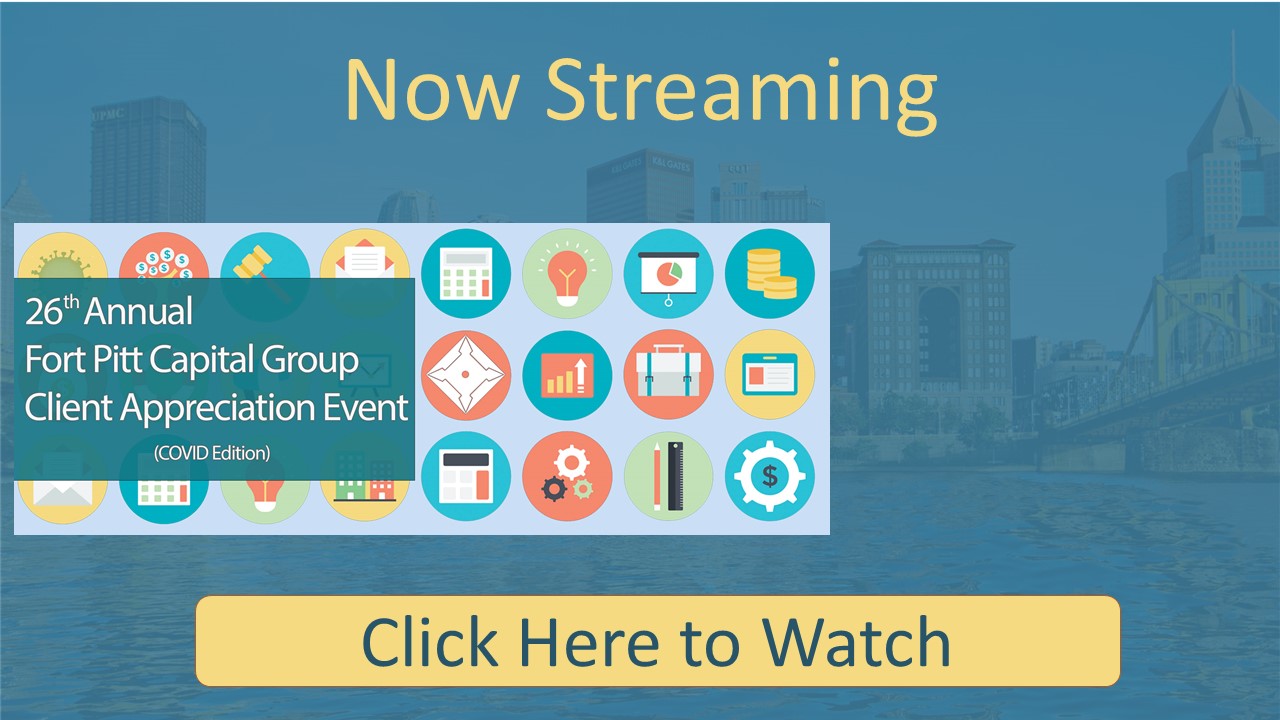 In Lieu of Our In-Person Event:
Fort Pitt Capital Group has pledged a donation of $10,000 to World Central Kitchen's #ChefsforAmerica
To date, WCK has provided:

over 35 million meals in more than 400 cities
$135mm paid to over 2,500 restaurants
You, too, can donate to World Central Kitchen by following this link.

Introduction & State of the Fort
Click the image below to watch Ted Bovard, Partner & Managing Director, introduce the 2021 client event and share important updates about Fort Pitt Capital Group. Once you are done with this segment, simply scroll down to the next.
2020 Recap
Click below to watch Charlie Smith, Founding Partner & Chief Investment Officer, go over what happened in the market last year, then scroll down for the next item on our agenda.
Fixed Income
Click below to see our Director of Fixed Income, Jay Sommariva, discuss fixed incomes. When you're ready, scroll down to watch Dan Eye's Market Outlook.
2021 Market Outlook
Dan Eye, Head of Asset Allocation and Equity Research, will cover our thoughts on 2021 in the link below. Scroll down to see our responses to your market and portfolio management questions.
Client Questions- Markets & Portfolio Management
Founding Partner and Managing Director, Mike Blehar, is the host of our Question & Answer segments. The first segment focuses on the following markets and portfolio management questions:
How will the Biden administration affect the stock markets for the next four years?
What concerns do you have about the short and long term of the markets?
Are you concerned that with the national debt, the value of our stocks could drop dramatically, and what can be done to safeguard such a drop?
What do you know about investing in SPAC's?
There seems to be a shift in attitude about cryptocurrency; what is your prediction?
What is the projected growth for 2021, 2022, and 2023?
Some have described Amazon, Facebook, and Google as virtual monopolies. Given the dominance each of these companies exhibits and their central roles in the modern economy, why haven't they made the "cut" in your selections?
I see the Lowes near me is closing, which makes me nervous because it is part of my portfolio. Should I be worried?
How did 2020 affect the institutional investing landscape, and what was the impact on OCIO services?
Are we in an economic bubble? Should those of us in our eighties hedge our bets more, and if so, how?
Click below to hear our answers or scroll down to watch our financial planning Q&A segment.
Client Questions- Financial Planning
Now our Q&A host, Mike Blehar, will go over the following questions that were sent in surrounding financial planning for individuals, businesses, and nonprofits:
What sort of multi-generational planning does Fort Pitt Capital Group provide?
Is my Social Security benefit reduced or taxed if I continue to work?
Will the stimulus check increase the tax on my Social Security benefits?
What does Retirement Plan Services do?
What is a Certified Exit Planning Advisor?
Can I retire during COVID?
Click the image below to play our responses or scroll down for closing thoughts.
Closing Thoughts
Ted Bovard is back to close out this event and with instructions on what to do if you have any additional questions. Click below and stay to the end to enjoy some outtakes and candid moments from our team!
Thank you for joining us! Please do not hesitate to reach out to your advisory team with any additional questions.