Current Cyber Fraud Trends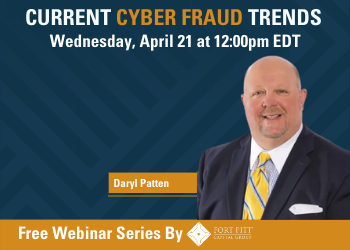 Hackers and those that commit cyber fraud are becoming more and more sophisticated. We understand the importance of protecting your family and financial assets from cybercrime and want to share the latest tips and tricks to keep you safe. In our next webinar, Fort Pitt Capital Group Advisor Daryl Patten has invited the leader of Fidelity's Securities Services, Gary Rossi, to detail current cybercrime trends and actions you can take to reduce the risk of your information being compromised. This webinar will contain simple steps you can take today to mitigate your risks and better protect your financial assets by answering questions like:
• Make Yourself a Difficult Target for Cybercriminals
• Your Digital Footprint- Understand and Protect It
• Protect Loved Ones from Elder Scams
• Keep Your Home Secure- People, Possessions, and Information
• Safe Traveling Tips
Read more about cybersecurity here!
Fidelity Investments is an independent company, unaffiliated with Fort Pitt Capital Group. Fidelity Investments is a service provider to Fort Pitt Capital Group. There is no form of legal partnership, agency affiliation, or similar relationship between your financial advisor and Fidelity Investments, nor is such a relationship created or implied by the information herein. Fidelity Investments has not been involved with the preparation of the content supplied by Fort Pitt Capital Group and does not guarantee, or assume any responsibility for, its content. Fidelity Investments is a registered service mark of FMR LLC. Fidelity InstitutionalSM provides clearing, custody, or other brokerage services through National Financial Services LLC or Fidelity Brokerage Services LLC, Members NYSE, SIPC. 973334.1.0