In my previous post "Bond buyers beware," I reviewed the recent bond market outlook and detailed our concern over the risk levels within certain fixed income segments. There has been increasing press coverage of an imminent bond bubble due to the low interest rate environment. However, recently the Fed announced their plan to stay on course with QE3 — continuing their monthly $85 billion Treasury and mortgage-backed buying. Current economic data has been mildly positive, so we expect rates to stay low as the Fed maintains an easy monetary policy and we stay in a grinding deflationary economic environment, which would delay the biggest risk for Treasuries – rising rates, for now.
As you can see from the chart below, the reality remains that since the 2008 financial crisis, spreads have been compressing in corporate bond yields and are at a point where there is reduced opportunity for price appreciation left in the market.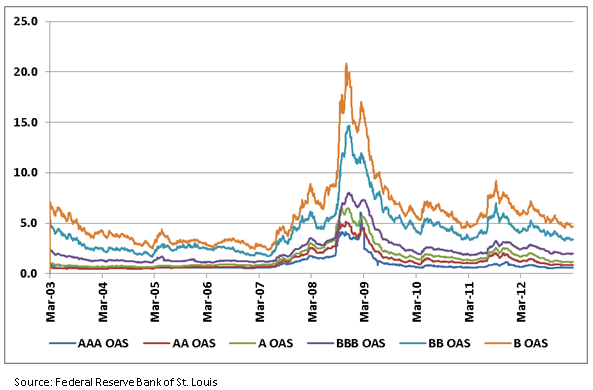 Investors should expect to clip coupons for near-term bond returns. For those with money in highly rate-sensitive securities, such as Treasuries, we recommend being cautiously optimistic. Investors are better off in higher quality when spreads tighten, as we have seen recently, because if yields widen back out, lower quality will be hurt relatively more.
Make sure to check back to Ramparts, as we continue to address financial issues that capture headlines and explain how they impact our investment decisions.