Fort Pitt is pleased to announce the addition of Carter Henderson to the firm as portfolio specialist and director of institutional development. For our latest Employee Spotlight, we sat down with Carter to discuss his unique history before Fort Pitt, his new responsibilities, and some of his favorite ways to enjoy the weekends.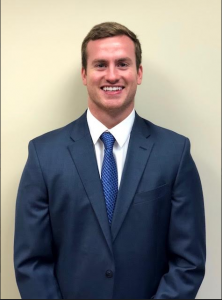 Tell us about your background, and what brought you to FPCG?
I started my career working for two small asset management firms in Pittsburgh, and then I actually owned my own RIA before I came to FPCG. I started it while I was still in college and was running it while I finished my MBA at Duquesne University. I came in for a mentoring session at Fort Pitt with Mike Blehar. We talked about how he grew his firm into the firm that it is today, and then we started discussing what capabilities I had. We met over five times – I really enjoyed the people and culture at Fort Pitt, and so I came aboard. Everyone here is so welcoming, and I love the team atmosphere, especially from my days being a football player and team captain in college.
What will be your main areas of focus and responsibilities?
My main responsibility at Fort Pitt is to go out and knock on the doors of pension funds, endowments, foundations, etc., and then manage their portfolios. With the institutions, it's a lot different than working with wealth management and individuals. You work with a board of directors, you work with consultants for the institutions, and the process takes a lot longer, but the accounts and the allocations are a lot bigger.
What are some of your favorite hobbies?
My fiance and I love to travel and try new restaurants in Pittsburgh. We love the outdoors, and we love to take our black lab to the pool. I also love to cook! My favorite thing to cook is lobster mac-n-cheese. My mom was always a great chef and I just picked up on her tendencies and decided to learn to cook for myself.
What does your ideal weekend look like?
Going to an outdoor restaurant and bringing our dog on Friday night. Then, Saturday would be filled watching all the college football that I can, and taking our dog to an outside brewery. Sunday would be dedicated to relaxing ahead of the week.