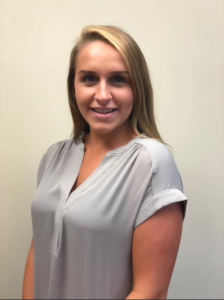 For our latest Employee Spotlight, we spent some time with Kaitlyn Haney, who recently joined the team as a client relationship specialist (CRS). During our sit down with Kaitlyn, we discussed her current responsibilities, aspirations and her favorite vacation destination.
What is your job title and what are your main responsibilities in an average day?
I'm a CRS, I started here earlier this summer after graduating from Penn State Behrend in Erie, PA with degrees in finance and accounting. My main responsibilities in this role include helping onboard clients, processing fund requests and assisting with appointment setting. It's our role to make the advisors life easier!
What brought you to FPCG?
In late 2017, one of my college professors brought in a Fort Pitt job posting for a CRS role and it was the exact opportunity I was looking for post-graduation. My goal is to become a financial advisor (I'm currently studying for my CFP) and I wanted to learn about the business from the ground up. If I become an advisor, I want to understand the work that everyone does around me to make for an exceptional client experience. I spoke to Cassie Denger here at Fort Pitt, who said they were looking for an immediate hire, but to reach out again after graduation. In May I followed up about the position and I couldn't be more excited to be part of the Fort Pitt team.
What are your hobbies outside of work?
Outside of work I love spending time with friends, taking road trips, going to a sporting event and trying new wineries and breweries in the local area. I also enjoy the occasional retail-therapy session!
Where is your favorite place you've traveled to?
For graduation, my parents surprised me with a cruise to the Western Caribbean for our family. I absolutely loved the trip and Honduras in particular, it's a beautiful country. A highlight was scuba diving and seeing the beautiful reefs. Our family usually travels to different parts of the U.S. on vacations so this was a wonderful surprise.
What's something most people don't know about you?
I really love to bake, but I'm not a big fan of the cleanup after, but who is? My great-grandmother was an amazing baker and it seemed to skip a few generations before it got back to me. At any gathering, party or vacation I'm always the one to supply the sugar rush!