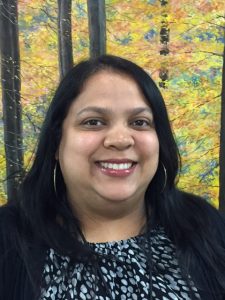 For this month's Employee Spotlight, we'd like to introduce Shaheen Jamil, client relationship specialist at Fort Pitt. We learned about her transition from the medical field to financial services, and what some of her interests are outside of work. Check it out:
How did you get your start in the financial services industry and at FPCG?
After being in the medical field for over 14 years as a pharmacy technician, I was ready to move on and try something new. I had mentioned this to my best friend, Francesca Leverich who also works for Fort Pitt Capital Group, and she indicated that the company was looking to hire more client service representatives.  Even though I had no financial background, I had a lot of customer service experience and I am quick learner. I handed in my resume and the rest is history! I will say that it was the best decision I made.
 What is your favorite memory on the job?
We have a Fun Committee and one of the many events I was able to attend was the Ducky Tour. I had always wanted to try it, but never had the chance. It was not only educational, but a fun experience and the Fun Committee got us duck whistles that actually quacked! We would quack at everyone passing by! Afterwards, we had a great dinner at the Bettis Grill. It was wonderful to be able to get a chance to have fun with my colleagues outside of work.
What are some of your interests outside of work hours?
I love to read books, watch movies, go to musicals and the symphony, and I spend most of my time with my 10 1/2 year old daughter, Ariana. She is involved in various activities throughout the year which keeps me busy. During the summer months, my family and I usually start to prepare for the annual Pow Wow held at the Council of Three Rivers American Indian Center located in Doresyville. My family is one of three founding families of the Center. My aunt, mother and I head up the Native American Museum during Pow Wow weekend. We try to educate visitors about different aspects of Native American Life. My daughter dances fancy shawl and usually competes with other kids her age. I can and have made many Native American regalias for my family and started beading a few years ago. (Every other year I usually have to make my daughter a new regalia, since she grows so fast!)
 What advice would you give to someone who would like to pursue a career in financial services?
It may sound very intimidating to some, but I would tell them not to be afraid of trying something new. I wish I would have taken a business class in college, instead of primarily sticking to science classes. I probably would have enjoyed it. As a client service representative, it's great to work behind the scenes to learn about all the different aspects of the business. Every part of the job learned has been extremely valuable, and I am continually learning something new each day. We all do!