The highly anticipated September Federal Open Market Committee (FOMC) meeting came and went with the same result we've been seeing for six years—no change. (See Exhibit 1.) The U.S. central bank decided that holding short term interest rates near zero was once again the appropriate policy. Ahead of the meeting, money markets had attached a 30 percent probability to a September rate hike. This while the so-called "experts" placed the odds much higher—at 50 percent. This was the first meeting in years where there was even a realistic discussion of a change in interest rate policy. Still, nothing happened.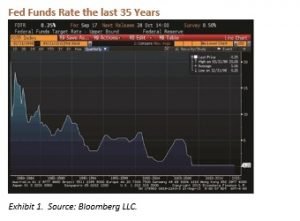 While acknowledging the case for monetary tightening, Fed Chair Janet Yellen gave two reasons for keeping rates flat. First, she cited the failure of measured U.S. inflation to pierce the Fed's stated 2 percent policy target. Second, she detailed rising concerns among FOMC members about flagging economic growth outside the U.S., particularly in China. She spoke about each issue at length at her post-meeting press conference. Her comments about weak overseas growth as a deciding factor took many observers by surprise, as historically the Fed has focused almost exclusively on domestic issues when making policy. Her remarks only added to the confusion promulgated by the Fed in recent years. It seems that "reading the tea leaves" is becoming ever more difficult.
Fixed income markets were extremely volatile in the quarter leading up to the Fed meeting. China spooked markets worldwide in early August, announcing their largest currency devaluation in 20 years. This caused a massive "flight to quality" in the bond market that dropped the interest rate on benchmark 10-year U.S. Treasuries under 2 percent. Rates spiked back to 2.3 percent over the next several weeks, as the market became convinced of imminent Fed tightening. When Yellen failed to deliver, the 10-year rate fell back to 2.16 percent. Although not unprecedented, such large swings are rare, and generally indicate significant uncertainty in the overall market.  We believe any eventual tightening of monetary policy will be viewed positively by bond investors, and indicate that the U.S. economy is robust enough to absorb a rise in rates.
High yield bonds excepted, fixed income markets generally performed well in the third quarter. The two high-quality benchmarks we follow most closely—the Barclay's 1–5 index and the Barclay's 1–10 municipal index—were up 0.44 percent and 1.68 percent, respectively, during the quarter. Both indices benefited from the flight to quality mentioned above. Looking ahead, we expect the final quarter of 2015 to be just as volatile as the third quarter, and Fed commentary to be just as much a driver of bond prices as any policy changes. If the Fed decides to raise rates by a quarter point, and then indicates that they are done for a while, the interest rate curve could flatten (short term rates would rise and long term rates would fall), as the threat of inflation would be diminished. Conversely, if the Fed were to raise rates and then indicate more increases were coming, the yield curve would steepen as the market would need to price in higher long term rates.