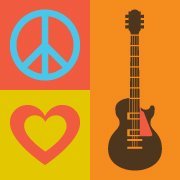 On Friday, March 8, 2013, the Heinz History Center held their annual "History Uncorked" event, chaired by Fort Pitt's Nathan Boxx. Marked as one of Pittsburgh's premier events, this year's exhibit, fittingly named "History Uncorked: Peace, Love and Rock n' Roll," showcased the Center's upcoming exhibition that will detail life in 1968.
In addition to displaying the upcoming exhibit, the event served as a networking opportunity for young professionals in the community. As explained on the event website, "History Uncorked offers an opportunity to become involved with the History Center's mission while mingling with up-and-coming entrepreneurs, connecting with colleagues, and building a broader professional network." Proceeds collected from the event were donated to both the Western Pennsylvania Sports Museum and other programs connected to the Center.
As always, Fort Pitt was pleased to have had the opportunity to be involved in such an important, annual community event. Being part of an organization that enables young professionals to pursue their career and financial goals continues to be a paramount initiative for all executives at our firm.
Click here to scroll through photos taken at the event, which were also featured online at The Pittsburgh Post Gazette.
Make sure to check back to our blog for other community involvement news and upcoming events!