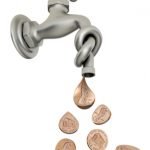 A recent study conducted by HelloWallet highlighted the alarming number of people who are dipping into funds set aside for their retirement. Workers withdrew a shocking $70 billion from their 401(k) plans for non-retirement needs in 2010, says the report.
These surprising figures highlight what we believe to be a fundamental problem among Americans today– they are not making a plan for the future. It's estimated that in our day, the average couple will need $1 million or more set aside for retirement. How do people expect to achieve this without proper planning?
According to the report, one in four 401(k) participants has, at some point, raided his or her 401(k) savings to cover expenses such as mortgages, college tuition, and credit card bills. Proper planning, which includes an emergency fund, would help to avoid situations where people feel they have nowhere else to turn to for cash. You want to avoid borrowing from your future to pay for things you want or need now.
The formula to ensure financial success is relatively straight forward: build a plan early, include an emergency fund, invest and max out 401(k) contributions and never touch funds earmarked for retirement. Sounds easy, so why can't most Americans follow it?
Check back to our blog as we will continue to discuss 401(k) strategies and offer advice to those working to achieve financial success.