The tug of war in US interest rates continued in the third quarter of 2016. The US economy showed some strength on the employment front that pushed rates up, but these forces were offset by Federal Reserve Bank Governors jawboning rates back down. Weak foreign economic news also depressed US rates during the quarter, as overseas investors bought Treasuries in a search for quality.
As was widely expected, the Fed decided to leave monetary policy accommodative in September, voting to keep the overnight interest rate in a range of .25 percent to .50 percent. With consumer prices generally holding below their "mandated" 2 percent level, Fed governors continued to use sub-par inflation as an excuse to do nothing. Prevailing sentiment at the September meeting seemed to be "do no harm", but there were three dissenting votes, and comments afterward insinuated that rates could rise before year end.
As was the case following the June Brexit vote, foreign politics and economic policy continue to play key roles in domestic bond markets. Aggressive quantitative easing (QE) and negative interest rates have been the name of the game for most of 2016 in Europe, for example. All else equal, these highly accommodative policies tend to depress US rates as well. This is because liquid capital flows to where it is treated best, and (relatively) higher US interest rates act as a magnet for foreign money.
Bottom line: the interest rate on the benchmark 10-year US Treasury ended the quarter at 1.60 percent, down from 2.27 percent at the start of 2016. This 67 basis-point decline, combined with a slight increase in short term rates, has caused the yield curve to flatten dramatically in the last nine months, as the graph below demonstrates.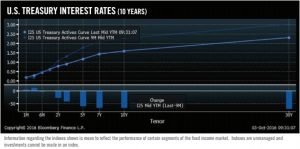 Historically, this sort of curve flattening has been a precursor to slower economic growth. Given that the primary cause of the 2016 version has been foreign central bank policy rather than domestic economic trends, dire conclusions may be premature. Meanwhile, returns for both the Barclays 5- to 10-year Municipal bond index and the Barclays 1- to 5-year Investment Grade Corporate bond index remain positive for the year. According to Morningstar direct, the muni index and the corporate index are up 3.42 percent and 3.52 percent, respectively, through September.