June 29, 2020 Update
As we have stated from the beginning of the COVID-19 crisis, our clients' and employees' health and safety is our paramount concern. Now that all Fort Pitt locations have moved to the Green Phase, we are ready and excited to reinstate face-to-face communications by reopening our physical offices on Monday, July 6th. We do not take this step lightly and will be implementing new protocols as recommended by the CDC and The Office of the Governor of Pennsylvania. The following COVID-19 Green Phase FAQs will provide details on the changes. Please do not hesitate to reach out with questions.
About Physical Offices Opening
Is Fort Pitt's reopening plan set in stone?
The COVID-19 pandemic has been a fluid situation from the start. Fort Pitt's reopening plans are based on the information we have today. If anything changes, we will update our reopening plans accordingly. Fort Pitt remains committed to keeping our employees safe, providing outstanding service to our clients, and complying with all local, state, and federal rules, regulations, and orders.
What's the timeline for reopening the Pittsburgh and Central PA offices?
In-person client meetings will resume Monday, July 6, 2020, during our normal business hours of 8:30 a.m. -5:00 p.m., Monday thru Friday.
Will Fort Pitt have any office capacity restrictions in place?
To ensure the appropriate social distancing, our employees will work in the office and from home under a rotational schedule so that the office will be limited to about half capacity on any given day. Please contact your client service team directly to determine which days they are available for a face-to-face meeting.
Are there any building restrictions clients should be aware of?
Each person should:
• adhere to safe distance requirements when entering, exiting, and moving within the building.
• adhere to the Governor's requirement of wearing mask protection.
• limit capacity levels in elevators to 2 people at a time to the best of your ability, where applicable.
New Safety Guidelines/Client Meetings
Do clients and employees have to wear a face covering in our office?
Yes. Clients and employees are required to wear a face covering in our office. If you do not have a face covering, we can provide one to you when you arrive.
Am I allowed to meet with my advisor at a restaurant?
No. Due to the difficulty of maintaining appropriate social distancing measures, we are not approving client meetings at restaurants, coffee shops, etc. at this time.
Am I allowed to meet with my advisor in my home or office?
As long as you and the client follow appropriate social distancing guidelines, yes, you may hold client meetings at the client's home or office.
Will the conference rooms be cleaned/disinfected after each use?
Yes. We will be using Clorox wipes to wipe the table, chairs, phone, light switch, and door handles.
How will clients know about Fort Pitt's new safety guidelines and if anything changes?
We will add reminders of social distancing requirements in email confirmations to all clients coming into the office.
Will clients be allowed in the lobby?
Yes. But clients will be asked to stay in their car until 5 minutes before their appointment.
Will Fort Pitt perform health screening, such as through taking a person's temperatures?
No, not at this time.
What should I do if I'm sick?
We respectfully request that anyone feeling unwell stays home. We will be happy to reschedule to a remote meeting or schedule another time after your symptoms subside for two weeks.
Does Fort Pitt require employees to stay home if they have COVID-19 symptoms?
Absolutely. Quarantine measures will take place as appropriate.
What social distancing requirements does Fort Pitt follow?
• Maintain a distance of at least six feet from other individuals.
• Wash hands with soap and water for at least 20 seconds as frequently as possible or use hand sanitizer if soap and water are not available.
• Cover coughs or sneezes with a sleeve or elbow, not hands.
• Do not shake hands.
• Regularly clean high-contact surface areas.
• When sick, stay at home.
What is Fort Pitt doing to keep public/community surfaces clean?
We are following CDC recommendations including enhanced cleaning protocols with calls for increased frequency of servicing high touch areas in our buildings' common areas daily throughout the day.
Does Fort Pitt have a plan in case the business is exposed to a probable or confirmed case of COVID-19?
Yes, we are prepared to handle a confirmed case, should it occur.
What are best practices for social distancing in an elevator?
Our Pittsburgh branch resides on the third floor. If the use of stairs is not an option, we suggest the following:
• Avoid entering elevators with more than three other people – use a rule of only four riders at a time.
• Wear a mask and avoid getting on the elevator with someone not wearing a mask.
• Once you are in the elevator, maintain the furthest possible distance from others.
• Face away from other passengers.
• If three passengers are on the elevator at one time, the person in the middle should stand in front of the other two, so contact is less likely.
• If you need to sneeze or cough, make sure to cover your mouth and nose with your elbow and not your hand.
• If possible, use your sleeve or a clean tissue on the elevator buttons to avoid hand contact.
• Use hand sanitizer before entering and after exiting the elevator.
---
May 15, 2020
As you are probably aware, Allegheny County will move to the Yellow Phase of COVID restriction on Friday, May 15th.  In preparation, we want to provide an update on Fort Pitt's plans.
Protecting our employees and our clients is our priority.  In the Yellow Phase, some restrictions on work and social interaction will ease while others will remain in place.  Two important restrictions in the Yellow Phase that impact Fort Pitt are:
Telework must continue where feasible.
Large gatherings of more than 25 are prohibited.
Until further notice, Fort Pitt's employees will continue to work and meet with clients remotely. We remain fully available and accessible to you.
As we begin reopening our physical offices, we will keep you informed.  We believe starting small and expanding incrementally is the best course of action.  This will allow us to put health and safety first and adapt as we move forward.
If you have questions or concerns, please do not hesitate to contact your client service team.
Be Well,
Fort Pitt Capital Group
__________________________________________________________
March 26, 2020 
As we are all aware, financial markets remain extremely volatile as investors continue to assess the medical and economic impact of COVID-19. As we have mentioned before, we are not epidemiologists, and are taking a very humble approach with our thoughts and views on the virus, and potential impacts and outcomes. With that said, we wanted to provide a quick overview of some of our observations and portfolio decisions.
First, here are several reasons for cautious optimism with regard to containing the outbreak:
Last week we heard comments from the CEO of Quest Diagnostics stating his expectations that the nation's testing demand will be met in the next few weeks.
Earlier this week, a Silicon Valley firm received FDA approval for a test kit that provides results in 45 minutes. This would be a massive improvement over waiting days for results, and particularly important for our first responders.
Late last week, the Milken Institute released a report summarizing the number of institutions working worldwide on therapies and vaccines. The current estimate is 58 treatment therapies and 43 vaccines. While no one knows the outcome here, the amount of talent and resources devoted to addressing both the virus and the disease is immense. We're encouraged by the massive push for a solution, and we don't discount the innovative capabilities of the global pharmaceutical community.
Last week we discussed the dramatic decline in new daily COVID-19 cases in Asia – mainly China and South Korea. Now the focus turns to Europe and how quickly they can "bend the curve." So far, we've seen the number of daily new infections peak in Italy on March 21st. We do not know if this is THE peak, but this is a positive development for now.
Thoughts on the economy and the policy response:
The initiatives put in place to slow the spread of COVID-19 will have profoundly negative effects on the U.S. and global economies. Economists are racing to outdo each other to estimate the extent of the declines in both first and second quarter GDP. The decline in second quarter GDP could be larger than the previous all-time record 10% contraction in 1958. We're already seeing the economic impact, with today's unemployment claim data spiking to a historic high of 3.28 million.
While the near-term economic picture remains grim, the fiscal and monetary response has also been historic. The following will act as important counterweights to the COVID-19 slowdown:
The $2 trillion stimulus package currently working its way through Congress equates to almost 10% of annual U.S. GDP. Other countries such as Germany and Japan are following suit with stimulus packages of similar size. These packages will cushion the blow to economic activity while supporting workers and small businesses.
The Federal Reserve has thrown the proverbial kitchen sink at the problem. The Fed has cut interest rates to zero, announced unlimited Quantitative Easing programs, and is buying assets such as municipal and corporate bonds. Again, we don't expect these initiatives to spur demand, but they will help keep financial markets liquid and allow many corporations to access nearly free capital for the duration of the crisis.
We don't know when the COVID-19 virus will peak, or when policymakers will reduce lockdown restrictions. But those things will happen, and when they do we'll likely see a powerful economic rebound.
The S&P 500 declined by roughly 34% from February 19th through March 23rd. This decline is on par with historical peak-to-trough declines in previous recessions. We don't know if the "bottom is in" but we have certainly priced in a lot of bad news and potential negative outcomes.
Portfolio actions:
Our investment committee discussions and resulting investment decisions have focused on two main themes:  1) We need to align our investment decisions with our clients' time horizons and 2) markets don't wait. Both are explained in more detail below.
Yes, the economy will likely struggle for the next several months. Corporate earning power will be reduced, and consumers' ability to spend will be impaired by stay-at-home orders and the resulting unemployment. However, your time horizons are not weeks or months. Instead, they are measured in decades. We're not making investment decisions based on next quarter's earnings. Our focus is on the long-term prospects of the businesses we own.
Also, viewed in the context of history, markets don't wait for all the negatives to unfold before bottoming and moving higher. They price in the risks, uncertainties and potential negative outcomes, often overshoot to the downside – and then move on. The 2008-09 financial crisis is instructive in this regard. Bank stocks bottomed YEARS before bank failures during this period. We don't believe this time will be any different. Markets don't wait until all the bad news, negative headlines, and scary economic data are behind us.
We view 40%, 50% and 60% price declines in high-quality business as overdone in most cases. We continue to buy well run businesses at bargain prices. We do not anticipate "chasing" a market rally but intend to be patient buyers on weakness, and in sectors where we feel the negatives are overdone.
Please let us know if you have any questions, issues you would like to discuss or just want to talk.
______________________________________________________________
March 20, 2020
Last evening, Pennsylvania Governor Tom Wolf ordered all non-life sustaining businesses to close their physical locations as of 8:00 p.m. on Thursday, March 19th.  We agree with him that ensuring the health and safety of our clients and employees is critical.
As you may know, many of our employees have been working remotely this week, but effective immediately all Fort Pitt and Roof Advisory employees are working remotely. During this period, email is the most efficient means of communicating with us. You may also call the office if you need to, and your call will be returned as soon as possible. Please bear with us through this difficult time.  We will respond to all of your questions and requests as rapidly and efficiently as possible.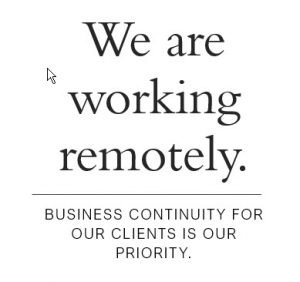 Please be assured that Fort Pitt and Roof Advisory are fully functional and committed to providing you with uninterrupted service. We appreciate your continued confidence in us.
Stay safe, and we will provide updates to you as we navigate this challenging time together.
______________________________________

March 18, 2020
We hope this communication finds you and your loved ones safe and healthy. Your well-being is always our top priority, and we want to do everything we can to ensure your safety and security.

With this in mind, we've decided to cancel all IN PERSON meetings with Fort Pitt Capital Group and Roof Advisory Group representatives until further notice. If you have an in-person meeting scheduled, you will be contacted by your client service team to either reschedule at a later date or make arrangements to meet by conference call. We don't know how long this policy will be in place, but in the interim, we will be taking direction from local, state and federal authorities, and will be sure to inform you when it changes.

Rest assured that Fort Pitt is equipped to remotely and seamlessly provide all aspects of portfolio management, financial planning and customer service that you've come to expect. Some employees will remain in our offices, and some will work remotely. We encourage you to communicate with Fort Pitt in any way you are most comfortable – whether it be via email or telephone. Email is generally the most efficient, but feel free to call us if you have any questions or need assistance with anything.

As always, we appreciate being your trusted financial adviser. Stay vigilant, cautious and healthy!!