Charitable Gifting Strategies – Make the Most of Your Donations
Chris Chaney
in
Webinar
5 April, 2021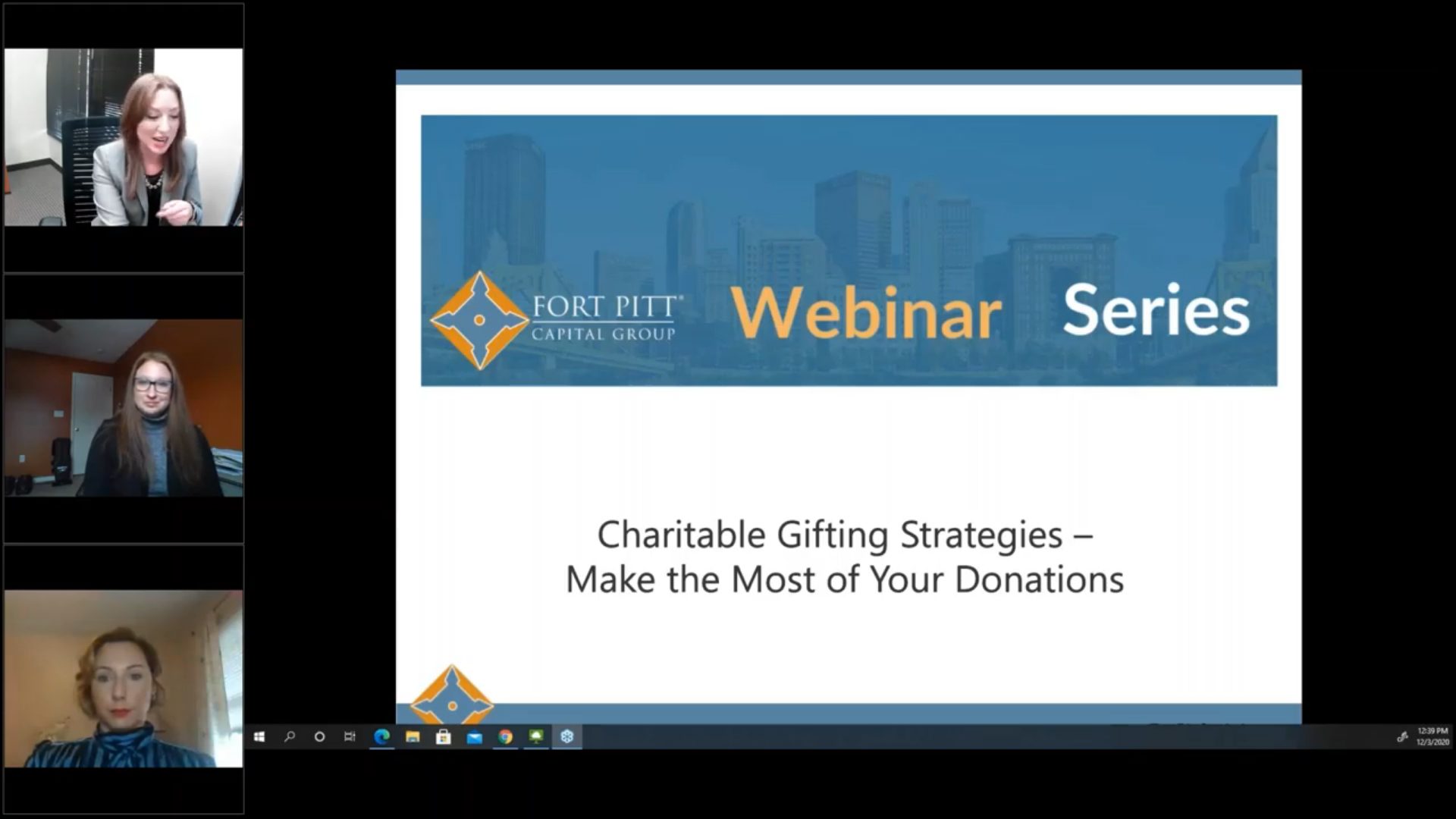 Written by: Chris Chaney, CEPA | Financial Advisor
Fort Pitt Capital Group talks with guests Amy B. Razem, CAP® from the Pittsburgh Foundation, and lawyer Nicole Phatak about making the most of your donations.
They cover topics like:
Tax-efficient donation methods
Ways to make an impact beyond sending money
Qualified charitable distribution strategies for RMDs
Donor advised funds
Charitable trust and estate plans
Setting up current and future charitable gifts

Charitable giving is a financially prudent way to help your community, deepen relationships and enjoy special tax benefits. It's mutually beneficial, profiting both the donor and the charity supported. Of course, a strategic approach is always preferable if you're planning to spend your money. It's also useful to know more about what constitutes a charitable donation as you consider your options.
What Is a Charitable Donation?
What is charitable giving? The answer may seem simple, but the legal definition is more involved. Regarding taxation, a charitable donation is deductible if it's made to a qualified charity per IRS code in the tax year it's donated. The type of donation, your approach to charitable giving and bills like the Coronavirus Aid, Relief and Economic Security (CARES) Act will affect your strategy when determining the most effective way to donate. So, how should you proceed?
Tax-Efficient Charitable Gifting Strategies
You have various charitable giving strategies to choose from. Your ideal strategy will ultimately depend on your circumstances. With that in mind, here are five ways to move forward:
1. Gift Appreciated Assets
When you donate long-term appreciated assets like stocks, bonds, or real estate, you won't typically have to pay capital gains. You can also take a deduction on your income tax for the full fair-market value, up to 30% of your adjusted gross income. You can also deduct more than what you paid for the asset, and you won't have to deplete your funds to make the gift, giving you more flexibility with your finances.
2. Give a Qualified Charitable Distribution From Your IRA
Donors over the age of 70 1/2 with an individual retirement account (IRA) should consider a qualified charitable distribution (QCD). If you fit those criteria, you can meet your charitable goals and withdraw funds from your IRA without tax consequences. There are just a few things you should know:
A QCD also allows you to satisfy your required minimum distribution (RMD) up to $100,000.
QCDs are ideal if you have few other deductions or are already close to your deduction limitations.
If you're subject to an RMD and want to make a donation, it's possible to count the RMD proceeds as a taxable distribution and donate them.
The CARES Act temporarily waived RMDs for all types of retirement plans for 2020.
3. Offset the Tax Costs of Converting a Traditional IRA to a Roth IRA
You can reduce your future taxes by converting a portion of your IRA assets to Roth IRAs. You can further offset the tax cost of a Roth IRA conversion through charitable giving. This method is comparatively simple, as it only requires you to convert your assets in a year where you claim a large tax deduction, such as an itemized charitable deduction.
If you synchronize your contribution with the same year as your Roth conversion, you can save money on taxes while supporting your chosen charity.
4. Establish a Donor-Advised Fund
A donor-advised fund (DAF) is a giving vehicle with sponsorship from a public charity. It enables you to make donations to that public charity, receive a tax deduction right away and recommend grants from the fund over an extended period. You can contribute and recommend grants at your leisure.
As for the benefits of establishing a DAF, it allows you to make a donation and qualify for a deduction immediately without having to decide on the charities you want to support with grant recommendations. You're free to recommend grants on your own schedule. DAFs are also appealing if you need to offset a year with high earnings or manage the tax implications of stock option exercises or year-end bonuses.
5. Consider a Bunching Strategy From Year to Year
Tax laws in 2017 increased the standard deduction and capped many itemized deductions. Considering this, you might want to itemize to make the most of the potential tax deductions that still exist. "Bunching" can be an effective strategy, where you concentrate deductions in a single year and then skip one or two years. If your total itemized deductions in a single year fall below the standard deduction, this strategy can be attractive. It also has value for charitable giving.
Instead of making charitable gifts yearly, give two or three years' worth of donations in a single year and skip the following years. Concentrating your donations can increase the value of deductions beyond the threshold for just one year. You can then take the larger standard deduction in the years you skip.
Consider Charitable Giving Strategies With Fort Pitt Capital Group
If you're planning to strategize your year-end charitable giving, the five methods on this list can provide a strong foundation moving forward. With internal expertise and individualized services for each client, Fort Pitt Capital Group strives to provide you with excellent service for your financial needs.
Speak with one of our advisors today, and we'll help you determine the right course of action for your financial situation.
Chris Chaney, CEPA
Vice President
Fort Pitt Capital Group, LLC
680 Andersen Drive, Pittsburgh, PA 15220
(412) 921-1822 | cchaney@fortpittcapital.com