Five Major Changes Coming to Social Security in 2022
Heading into retirement brings a slew of new challenges, including deciding when to start your social security benefits. That's why we hosted a webinar to cover your questions about Social Security planning issues. There are some important changes coming to Social Security in 2022 that will impact not just those on Social Security or approaching retirement age but also the younger generation whose income is supporting the increase in benefits:
1. Social Security payments will increase 5.9% in 2022.
The maximum possible Social Security benefit for someone who retires at full retirement age will be $3,345 in 2022, up $197 from 2021. In 2021, we saw a 1.3% COLA (cost-of-living adjustment). The last time COLA was over 5% was in 2008. See the chart at the bottom of this post for the ssa.gov breakdown of Social Security benefits comparing 2021 to 2022.
2. Full Retirement Age for Social Security goes up again.
In 2022, Full Retirement Age (FRA), which is when beneficiaries can collect 100% of their monthly benefit, will increase to 67 for anyone born in 1960 or later. Your FRA is based on the year you were born and can be calculated here.
3. The amount of wages taxed for Social Security is increasing.
The amount of wages taxed for Social Security will increase to $147,000 in 2022. In 2021, the amount was $142,800 and in 2020 it was $137,700.
4. Social Security beneficiaries who are younger than their full retirement age can earn up to $19,560/yr.
In 2021, the retirement earnings test exempt amount was $18,960/yr before their benefit is temporarily withheld at a rate of $1 for every $2 earnings. This will increase to $19,560/yr in 2022. This only impacts those who are under full retirement age and receive social security benefits. For those who are within the year of their full retirement age the retirement earnings test exempt goes up in 2022 to $51,960 and social security withholds $1 for every $3 over that benefit amount. Any benefits withheld while you continue to work are not lost. Once you reach full retirement age your monthly benefit will be increased permanently to account for the months withheld.
5. The Social Security Administration has redesigned Social Security statements.
These statements which can be accessed by signing up at https://www.ssa.gov/ provide personalized estimates of your future Social Security benefit at nine different ages, as opposed to three ages on the previous statements.
Have questions about claiming strategies to get the most from your social security benefits? Contact one of our advisors today to set up a free consultation.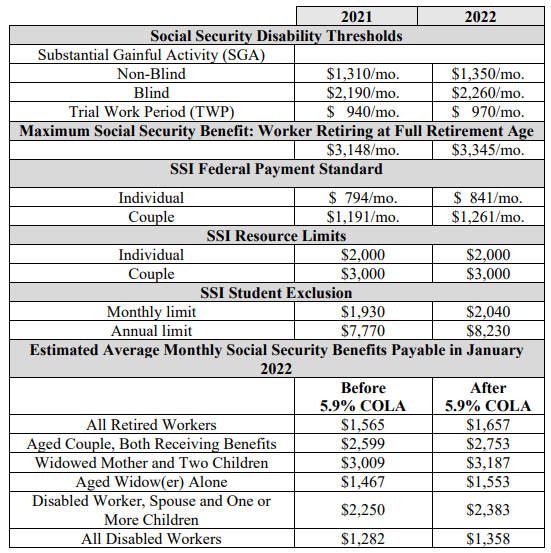 Sources:
https://www.ssa.gov/oact/cola/rtea.html
https://www.ssa.gov/news/press/factsheets/colafacts2022.pdf
https://www.ssa.gov/oact/cola/colaseries.html
https://money.usnews.com/money/retirement/articles/social-security-changes-coming-next-year