Maximizing Your Business's Value: The Key to Your Best Exit
Fort Pitt Capital Group
in
Webinar
27 July, 2021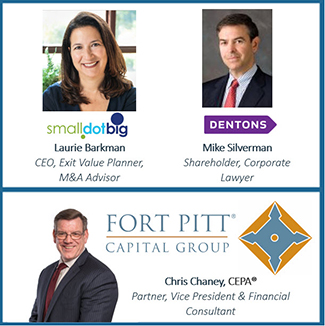 A note from the Business Advisory Group about this webinar:
As a business owner, you're proud of the results you've achieved. When it comes to the value of your business, your future is critical. That's why your growth potential is one of eight key factors that drive the value of your business. We discuss how key growth drivers and value enhancement planning are essential to maximizing your company's value . . . and the maximum value is the source of more and better options for a successful exit.
Presenters: Chris Chaney, Certified Exit Planning Advisor and Vice President at Fort Pitt Capital Group; Mike Silverman, Shareholder of Dentons Cohen & Grigsby; and Laurie Barkman, Business Growth and Transition Advisor, Host of Succession Stories Podcast, and CEO of SmallDotBig are collaborating to create coordinated strategies that help business owners develop successful exit plans. Go to our Business Advisory Group page for more information.
Complete the Form Below to Get in Touch Today
*Content is provided for educational purposes only. Opinions provided include endorsements of the products and services provided by Fort Pitt; however, are not indicative of any specific client experience or testimonial.