3 Ways to Gift Money to Your Grandchildren
As a grandparent, you love your grandchildren and want to help them succeed. One way to achieve this goal is by providing financial assistance. This method helps your descendants have a good start in life, and it also benefits your relatives by reducing the size of your estate and the taxes due after you pass away.
Here are three ways for grandparents to give money to grandchildren:
1. Make an Outright Gift
One of the simplest ways to gift money to your grandchildren is to offer it to them directly. This method enables them to put the money toward whatever they want, whether they save it for college, apply it to their mortgage, or purchase a new car.
Keep in mind that there is a limit to how much you can give without taxation. The annual exclusion for gifted money changes each year. As of 2022, you and your spouse can give up to $16,000 to each grandchild without taxation. So, you can each provide $16,000 to one grandchild for a total of $32,000 of gifted money.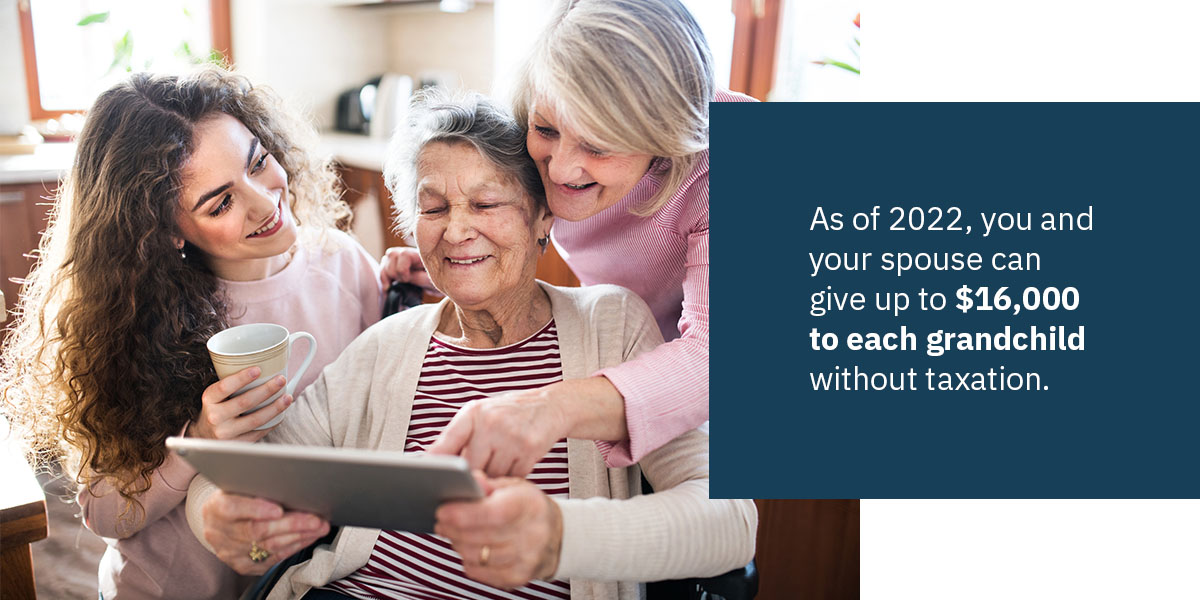 2. Contribute Toward Education and Medical Needs
Another method of gifting money to grandchildren is to pay providers for their school and hospital bills directly. This strategy ensures your relatives use the money for these purposes. You can take this route in addition to offering outright gifts, as it doesn't count toward your annual gift amount.
You can also open 529 college savings plans for your grandchildren. These investment plans, which are sponsored by the state, allow you to create collections of funds that your grandchildren can apply to college expenses.
3. Invest Money
Finally, you can make investments that will benefit your grandchildren, whether you open a savings bond that pays interest or a guardian individual retirement account (IRA). You may also open various accounts for them, such as:
Savings: This account will prepare your grandchildren for later expenses, such as attending college or purchasing a house.
Custodial: Custodial accounts protect assets until your descendants reach the age of majority.
Brokerage: This account contains your grandchildren's assets and allows them to invest.
You can also invest in your grandchildren by paying for several meetings with a financial planner. That way, they can make more informed decisions concerning their assets.
Contact a Financial Advisor
Providing monetary gifts to grandchildren can be simple with the proper guidance. At Fort Pitt Capital Group, our in-house financial advisors can assist you with financial planning, wealth management, and investment management research. We can help you give money to your grandchildren effectively.
View our individual services page for more information on how we can help!