Will College Costs Wreck Your Retirement?
Fort Pitt Capital Group
in
Webinar
30 July, 2021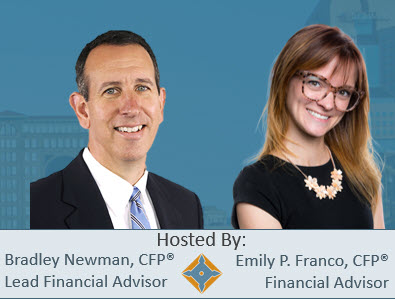 New mother and Fort Pitt Capital Group Financial Advisor Emily P. Franco, CFP®, discuss frequently asked client questions about 529 and other college savings plans with Lead Advisor and father of two college students, Brad Newman. They cover topics like:
Where, when, and how to start saving for college
Establishing a goal for college funding & evaluating how realistic that goal is
Balancing saving for retirement and saving for your child's education
529 plans and beyond: what is the best vehicle for saving for college?
And more!
Want Brad and Emily to answer your
college savings questions? Contact them today!
Basics of a College Savings 529 Plan:
Contributions
Under federal law, contributions cannot exceed anticipated cost of education.
529s are administered by states, so states often place limits on total contributions.
529 contributions are still subject to gift tax rules:

The annual gift tax exclusion is $15,000 per taxpayer per year.
A one-time lump sum of $75,000 to a 529 is allowed if the taxpayer does not make more contributions for 5 years.
Distributions
529 funds can be used for qualified education expenses tax-free.

Tuition/Fees
Room and Board
Textbooks
Peripheral Equipment

You can take scholarship amounts penalty-free (still owe income tax).
If your child decides not to go to college, the funds can be transferred to qualified family members tax-free.
College Savings Scenario
Steve and Linda want to help their son, Rich, who is 5 years old and will attend college in 13 years, pay for his college education.
Steve and Linda want to give him $20,000 per year in today's money.
They expect college costs to increase by about 6% per year and anticipate a 5.25% return on any invested assets.
They want to put away money each month to fully fund the expense.
What will college cost?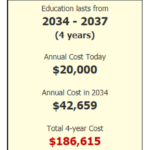 The costs of Rich's education are outlined to the right.
As can be seen, the projected cost at 6% inflation is more than twice the cost today.
In Rich's final year of college, Steve and Linda will be paying over $50,000.
How much to save for college: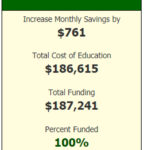 The chart at right describes how much Steve and Linda must save to fund the cost.
Assuming a 5.25% interest rate on the investment, they must invest $761/month for the next 13 years.
This equates to an annual amount of over $9,000/year
*Content is provided for educational purposes only.