Navigating Finances – Webinar with PennLive
Miranda Metz
in
Webinar
21 January, 2022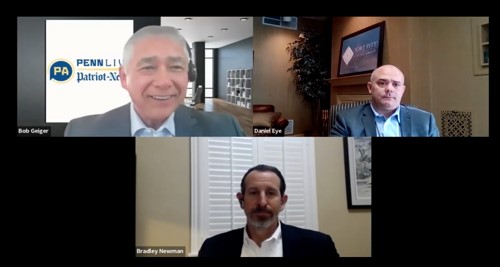 Watch Bob Geiger with PennLive.com and the Patriot host the virtual event Navigating Finances with our nonprofit sponsor United Way!
We'll dive right into our first discussion with Bradley R. Newman, CFP®, and Daniel T. Eye, CFA® to help us talk about what money moves to make this year and how to plan for your future financially.
Brad is the Lead Financial Advisor at Fort Pitt Capital Group. Brad's responsibilities include being the key, day-to-day contact for investment strategy, planning advice, and account oversight to ensure his clients' financial goals are met. His coordination of financial planning and investment advisory work focuses on investment portfolio review, detailed retirement analysis, college education funding, charitable giving strategies, and unique planning engagements for clients in various types of transition.
In addition to working with individual clients, Brad also has extensive experience working with trusts, institutions, nonprofits, 401 (k) retirement plans, and municipal pension plans.
Dan is responsible for Fort Pitt's overall investment style and strategy. He provides thought leadership on asset allocation, tactical investment positioning, security selection decisions, and collaborates with other investment team members to formulate the overall economic view of the firm. Dan has nearly 20 years of investment management experience, starting with J.P. Morgan, where he actively managed discretionary portfolios for high-net-worth individuals. He joined Fort Pitt in 2019 as part of a merger. He spent his first three years working closely with the firm's leadership to provide overall guidance of the firm's investment management processes, including ongoing evaluation of the firm's comprehensive investment strategies as he prepared for the role of Chief Investment Officer.
The first question: What are your keys to retirement savings? Click below to find out!
Other topics we cover:
Tips to retire early
Charitable Giving
Retirement Funding Levels
Retirement vs. College Savings
When should one adjust risk?
Pros and cons of pre-tax vs. post-tax retirement savings
When, if at all, does it make sense to hire a professional advisor?
Topics covered by Dan:
What is the market outlook for 2022?
The advantages/disadvantages of investing in individual stocks?
How to manage risk when owning a portfolio of stocks?
What drives decisions to sell stocks?
When to invest in mutual funds instead of individual stocks?
Feelings on crypto, What is it?
We thank Mr. Geiger for his generous use of the term "expert" when referring to us, but understand that this is a relative term. Our team certainly has experience and expertise and appreciates the faith in our abilities!
*Nothing in this webinar should be construed as a testimonial or an endorsement of Fort Pitt. Content is provided for educational purposes only.