What Does a Financial Advisor Do?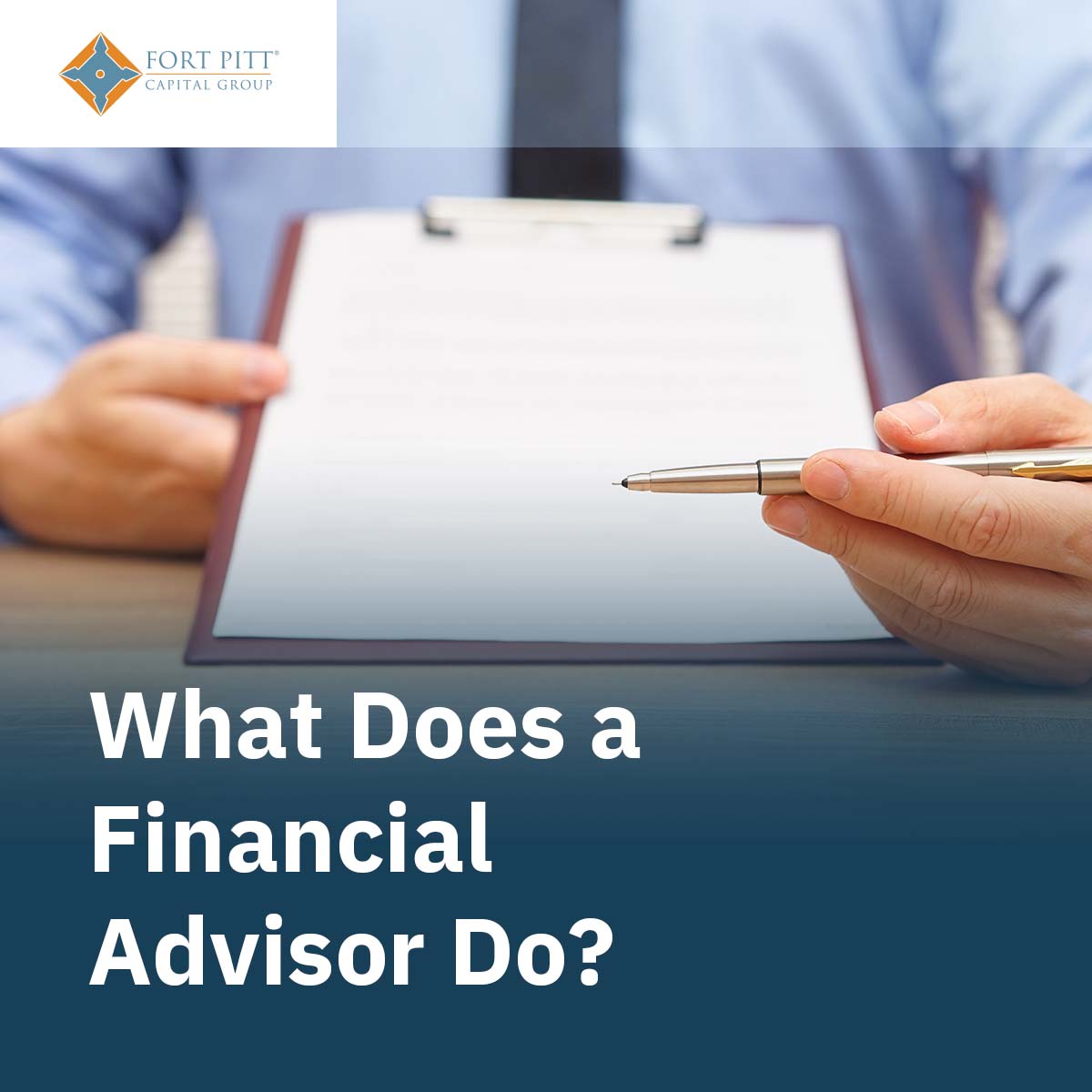 If you're serious about managing your finances, you'll want all the expertise you can get to stay on track to achieve your short- and long-term goals. Big and small life changes bring an increased need for an adaptive financial plan that can accommodate your life at every stage. A financial advisor can help you create this plan and put it into action.
Whether the life changes you're experiencing are joyful or stressful, it pays to have a financial advisor by your side. When you know you're on a good track financially, you'll be free to enjoy your life and prepare for fulfilling decades to come.
What Is a Financial Advisor?
Financial advisors are the skilled professionals you need to help you make the most of your money while preparing for life's changes now and into the future. Financial advisors can help you navigate all your life's transitions with ease.
Financial advisors get to know you and your life goals and help you create a savings plan and investment strategy tailored to your aspirations. Financial advisors can create a customized plan that enables you to maximize your finances to best live successfully by learning what matters most to you.
Once you have your plans in place, your advisor will help you transfer and consolidate your assets, so they're where they need to be to start working in your favor. Your advisor will also guide you in the right direction as you make significant spending decisions so you can stay on track to meet your goals.
A financial advisor is always aware of the big picture, helping you create spending and saving habits that will ultimately benefit you in retirement, whether that's a few years or a few decades down the line.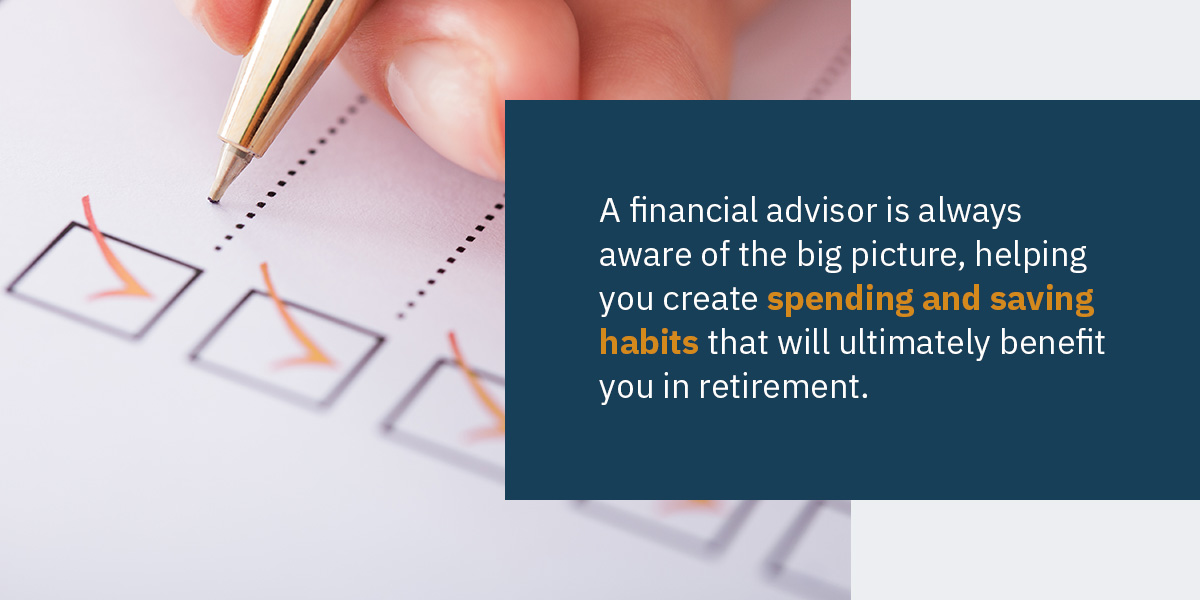 What Is the Role of a Financial Advisor?
Financial advisors work closely with you to understand your financial goals, frame them within the reality of your financial situation and help you reach them in a smart and secure way.
Some of the specific life areas your financial advisor can help you with include:
Retirement planning: You'll want to prepare for a comfortable lifestyle after you retire. The goal of a retirement fund is for you to be able to recreate your paycheck after you stop working. Consistently saving for retirement as soon as possible can help you stay on track to retire when you want to. A financial advisor evaluates your current financial situation and any changes along the way to help you budget effectively for this next stage of your life.
Investments: A diversified investment portfolio can help you save for retirement, but a truly profitable investment takes some management. Financial advisors can help you understand the ups and downs of the market, improve your current retirement plan, set up a new plan for investment, and track your assets.
Estate planning: When you plan for retirement, you'll also want to plan where your assets will go after your death. Placing your money into an estate or trust is a smart way to ensure your beneficiaries receive your assets. Financial advisors act as trustees, distributing your finances according to your wishes.
Health and long-term care planning: Surprising health issues can land you or your loved ones in expensive long-term care situations. A financial advisor can help you weigh your options and factor the possibility of long-term care into your retirement plan so you can financially prepare for potential health expenses during your retirement.
Inheritance: When you inherit a large sum of money, advisors help you realign this new portfolio with your goals. Inheritances can also come with many tax questions that financial advisors can help you with. In addition, they'll transfer your inherited assets into the proper accounts and make sure you're following all the rules by properly documenting and organizing your finances.
Advisors will also help connect you with a larger team of financial professionals, such as accountants and attorneys, when you need additional services like insurance or tax planning.
When Is the Right Time to Hire a Financial Advisor?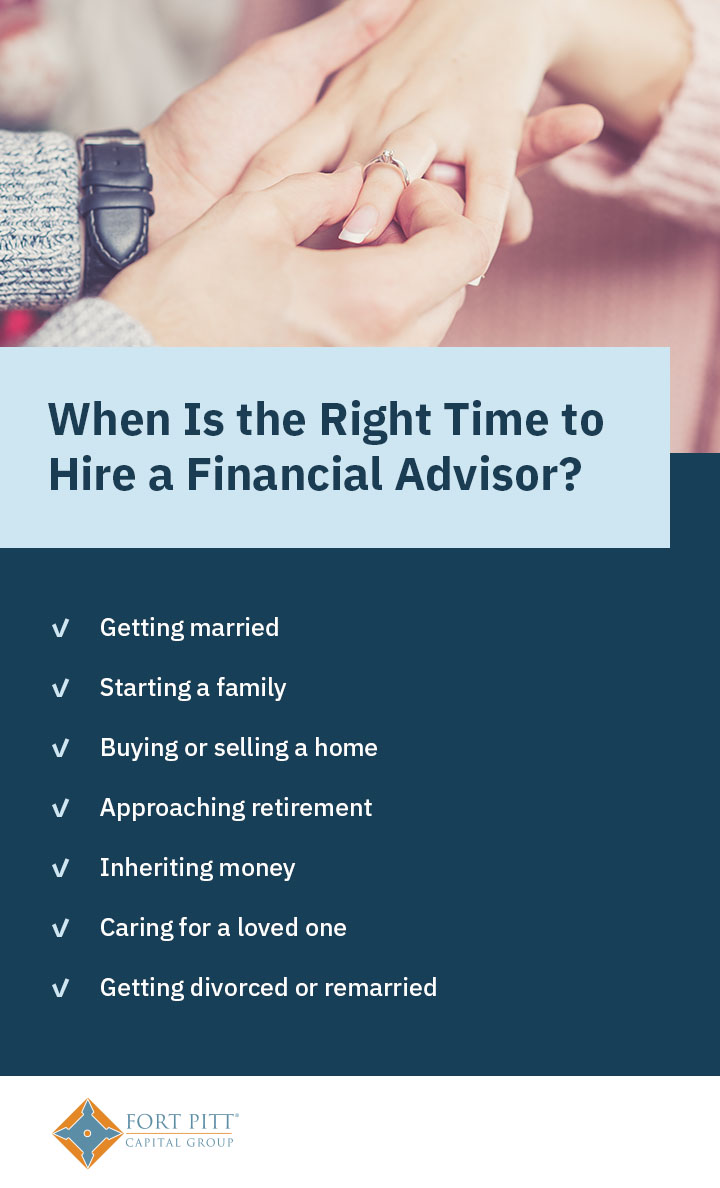 Financial advisors help you reach your goals, so the right time to hire an advisor is when you have specific objectives. Whether you've made definite plans that will change your future financial situation, or you'd like a better idea of how to manage your finances down the line, life changes call for a revision of your assets. As soon as you're aware of a major life change, put your plans into action with the help of an experienced professional.
Hiring a financial advisor is a lifetime partnership that can benefit anyone. Rather than waiting to work with an advisor until you have a certain number in your bank account, think of financial planning as a process that can expand and evolve as your finances do. As a financial advisor gets to know you more over the years, they'll be better equipped to help you when more major life changes occur.
Here are some common reasons you may consider hiring a financial advisor:
Getting married: As you prepare to get married, an important conversation to have with your future spouse is how you'll combine your finances when you start your new life together. You two may have different ideas for how you'd like to handle saving and spending. A financial advisor can mediate these plans and help the two of you create a combined approach to budgeting, debt, children's expenses, and retirement.
Starting a family: Bringing a new addition into your family is a cause for celebration and a reason to reevaluate your financial situation. You'll want to make sure your budget can accommodate the extra expenses, from everyday spending to saving for milestones such as college. A financial advisor can help you rearrange your spending and saving habits as you prepare to expand your family.
Buying or selling a home: You're taking a large financial leap, whether you're buying your first home or selling and buying again. A new home means new expenses to consider. Having a financial advisor on your side allows you to budget for all the expected and unexpected details of this major life change, so you're one step closer to purchasing your dream home.
Approaching retirement: You may think retirement is a far-off possibility that doesn't affect your current daily decisions. As you near retirement age, however, you'll likely become more serious about this step in your life and want to know how to prepare. Financial advisors can help you budget and save for retirement at any stage of your life, so you can start smart saving habits as soon as you're financially able.
Inheriting money: Inheritance can significantly increase the amount of money you have, leading you to want help with managing these new finances to spend, save or invest this money appropriately.
Caring for a loved one: If a family member suddenly requires long-term care, you'll want to do everything you can to provide for them, whether that means finding a care facility or caring for them yourself. An advisor can help you negotiate your finances and your loved one's finances to decide how you can provide the best care for them.
Getting divorced or remarried: You'll need to claim your own assets and restructure your finances after a divorce. An advisor can help you create an individual financial plan while understanding your unique situation, equipping you with a budget that works best for you in this newly independent life stage. Similarly, you'll want to consult a financial advisor when getting remarried. While many considerations stay the same as your first marriage, you'll also need to factor in how you'll support any children from your first marriage and how you and your new spouse will combine your assets, which an advisor can mediate.
How Do You Choose the Right Financial Advisor to Work With?
When you trust a professional with your finances, you'll want to make sure they're prioritizing your best interests. An effective financial advisor will help you get exactly where you want to be by understanding where you are right now and placing you on the right trajectory.
Some questions to ask when looking for a financial advisor include:
Are they willing to meet with me regularly?
Do they want to understand my future goals at different stages of my life?
Do they demonstrate a strong understanding of my previous financial goals and accomplishments and track my progress?
Do they coordinate meetings with other financial professionals whose philosophies align with my goals?
Are they someone I'll enjoy working with for decades, as financial planning is a lifelong endeavor?
What Is an Ongoing Relationship With an Advisor Like?
When you first hire a financial advisor, you'll plan to work with them for several years or decades, depending on when in your life you begin your professional financial planning. You'll meet regularly on a schedule that makes sense for your plans and goals, such as once a month or once a year.
Each time you meet, your advisor will remind you of your initial goals and share your progress toward meeting them. Then, as you encounter major life changes or important adjustments in your finances or the larger economy, your advisor will continually work with you to make sure your financial plan adapts to keep you on track.
Be open and honest to get the most from your relationship with your financial advisor. Clear communication about your goals will aid your advisor in helping you with a personalized financial strategy.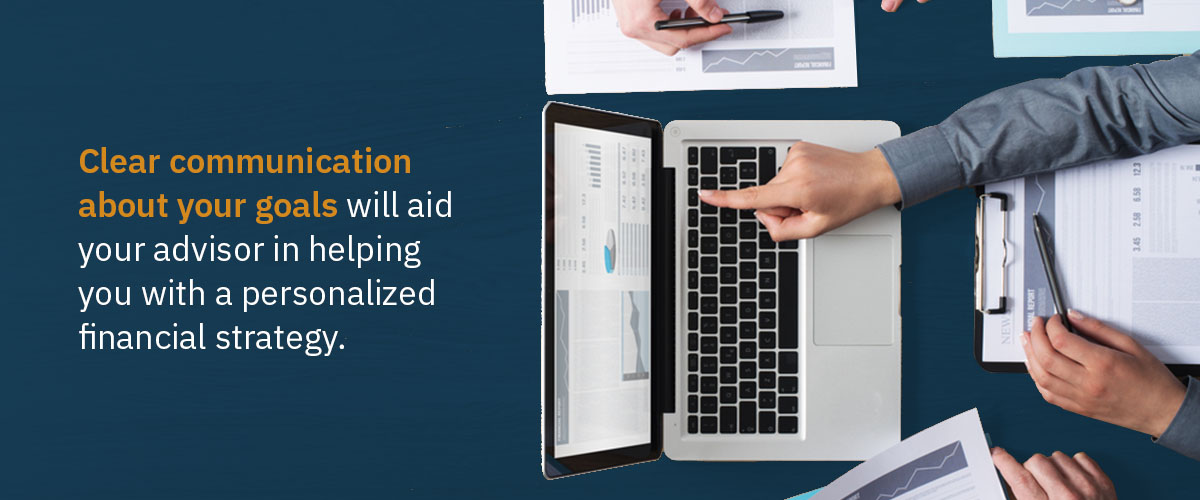 Using a financial advisor also serves as a learning experience for you as you expand your financial literacy. When you hire a trusted advisor, you can further benefit from their services by asking them questions about their work and what they specifically recommend for you, and why.
Financial Advisor FAQ
Now that you know more about what a financial advisor can do for you, here's some additional information about the specifics of financial advisory:
How Much Does a Financial Advisor Cost?
Depending on the type of advisor you choose, the price you pay will vary. Many financial advisors sell investment products, meaning their commission is a percentage of your assets. The cost of these types of services is often unspecified, meaning you may pay more than you bargained for.
Look for advisors who have transparent fees with no hidden charges or conflicts of interest.
What Are Some Signs You May Need a Financial Advisor?
You may benefit from professional advice if you're expecting life changes such as a growing family, a home purchase, sending a child to college, or retirement. Additionally, if you have many assets to protect, hiring an advisor can help you learn more about proper financial management. You may also consider an advisor's services if you want to leave a legacy that involves financially supporting the people or organizations you care about.
How Does a Financial Advisor Help You Reach Your Goals?
A financial advisor will get to know your financial situation and closely monitor your assets and investments compared to your spending habits. Your advisor will understand your goals and help you achieve them by setting a path based on your current finances and life events.
They can guide you in making big financial decisions, such as making a big purchase, saving for college, or starting a new job with a different salary. Your advisor can tell you how much you can spend, save or change about your finances while still being on track to reach your goals.
While advisors are aware of your current means, they also always have the big picture in mind, so all your financial decisions are a step closer toward intentionally achieving your goals.
What Is a Robo-Advisor?
Robo-advisors are a form of artificial intelligence that provides automated financial planners based on algorithms. Robo-advisors help people invest based on the rules of their algorithms and can be helpful for basic financial consulting services, such as goal planning and portfolio management.
However, these automated advisors operate without human supervision, meaning they're unable to think critically about economic issues that may concern you, such as market crashes. Robo-advisors also can't protect their users from poor investor behavior.
While robo-advisors are convenient, trusting a real, adaptable person to manage your finances can better help you achieve your goals when you want higher returns in a volatile market.
Talk With an Advisor From Fort Pitt Capital
A financial advisor can help you stay the course during life's surprises. From exciting milestones to the everyday process of saving for retirement, trusting a knowledgeable professional can make all the difference.
Here at Fort Pitt Capital Group, we know the value of reliable services that educate and support our clients. You take your finances seriously, and so do we. We want to help you create a custom plan based on your unique financial needs. Our advisors will provide you with financial advice while helping you understand why your financial decisions matter in the long run.
Contact us today to tell us your financial goals and see what a personalized plan can do for you!